AOC Plays Among Us to Increase Voting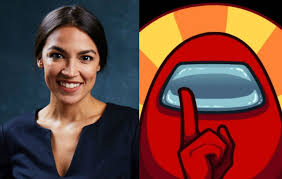 In an effort to urge people to vote, Rep. Alexandria Ocasio-Cortez, D- New York, did a livestream on Twitch last Wednesday and played the game Among Us. That game has been one of the most popular ones on the platform in past weeks, and coincidentally has a premise in which a group of people try to find the impostors among them to vote them out. Her livestream featured an assortment of popular streamers, including Jacksepticeye, Pokimane, Corpse, and Myth.
During the introduction of her stream, Ocasio-Cortez stated that with the power of voting, people can "vote blue", "vote Trump out of office", "vote for a Biden/Kamala ticket", and tell the Democratic party to "do better". The stream was geared toward younger voters, as 55% of Twitch users are between the ages of 18-34. 
Despite being a tourist to the game, she managed to keep the gameplay entertaining and suspenseful. Most importantly, she kept an image that felt relatable and sincere, a quality that is rare in a politician. 
The background of her stream also plugged the website iwillvote.com, which is designed to help make a voting plan. According to Ocasio-Cortez, people who "actually sit down and make a plan to vote… are far likelier to actually get their ballot cast" compared to those who only have a general idea in their head to vote. 
In the Houston area, harrisvotes.com is another helpful tool that can be used to make a plan for voting early or casting a vote on election day. The polling locations option shows options in the area, along with the estimated wait time for each specific location. Apart from that, the website also offers the option to view information on different candidates and see a sample ballot. 
As election day gets closer and closer, Ocasio-Cortez's stream helped highlight the importance that every vote can have.