Andy Ruiz Jr. honored at hometown parade
The world stood still on the night of June 1, when Mexican-American heavyweight boxer Andy Ruiz Jr. took on defending champion Anthony Joshua at New York's Madison Square Garden.
Ruiz Jr., who was born in raised in Imperial, California, just 15 miles north of the U.S.-Mexican border, was knocked down by Joshua during the first few rounds. But with perseverance, and ambition, he was able to shock the boxing world after knocking the defending champ down after four times, resulting in a total knockout after seven rounds.
He won the WBO, WBA, IBO and IBF heavyweight championship belts, becoming the first boxer of Mexican descent to win such championship. At 6 foot 2 and weighing 268 pounds, he was a "last minute" decision to enter the ring, after challenger Jarrell Miller dropped out due to testing positive for performance-enhancing drugs.
His win was unexpected, shocking the whole world. A wave of pride erupted not only at Imperial County, but also south of the border: Mexicali, the capital of Mexico's state of Baja California. After that night on June 1, Ruiz Jr. was able to put "the Valley" on the map for everyone to see.
The City of Imperial held a parade and rally at the small downtown area near Imperial High School on the morning of June 22. Close to 15,000 people, mostly residents and residents of Baja California came to witness the homecoming of their hero. The parade lasted for about a half-hour, leading up to the Imperial High football field, where he would be honored by city and state officials.
Ruiz Jr. was honored with the key to the city for Imperial, several medals and awards from local companies such as the Imperial Irrigation District, and lastly, a joint-proclamation from county representatives from all over Imperial Valley commemorating June 22 as "Andy Ruiz Jr. Day." He credits his father, Andres Ruiz for the encouragement. He once told him that he would become the next "Mexican Rocky".
"I think in the beginning it definitely [placed him] at the worst end of things because of how he looked and people not really knowing who he really was or what his background was like", said Freddy Terrazas, a former boxer who is very familiar with the Imperial Valley boxing scene during an interview with KPBS, a local affiliate, "I think it's going to benefit him because he looks like your buddy down the street and people love that. That authentic culture background that Andy brings just adds more spice to the table."
Several posters, billboards, custom-made t-shirts with his victory were all over the Imperial Valley, which sits about three hours from Los Angeles, and about an hour and 30 minutes east of San Diego. Flyers posted on walls and windows in local restaurants indicating that "Andy Ruiz Jr. eats free here".
Ruiz Jr.'s plans for his winnings were already in effect. During a press conference on the Friday before the parade, he mentioned that the first thing he bought was a car for his mother. "I messed up all of her cars when I was young," he said, laughing.
He also wanted to focus more on the youth programs here in the Imperial Valley, where the boxing scene is quite popular.
When I got knocked down, I got back up like the warrior that I am," he said to a crowd at the Imperial High football field. "To all the kids that have dreams, dream big."
Leave a Comment
About the Contributor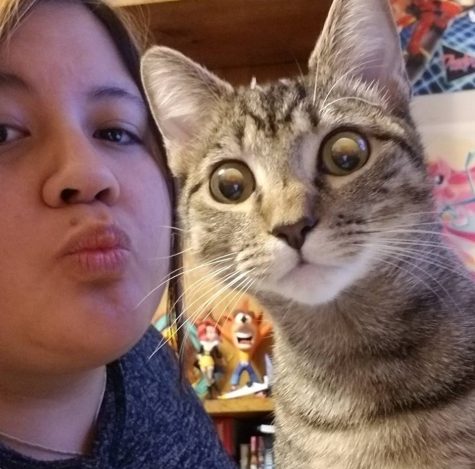 Ana Gonzalez, Editor-in-Chief
Ana was a final-year HCC student majoring in Communications. She chose HCC over any other community college due to diversity. Commuting from Santa Fe to...