Program keeps Mariachi program alive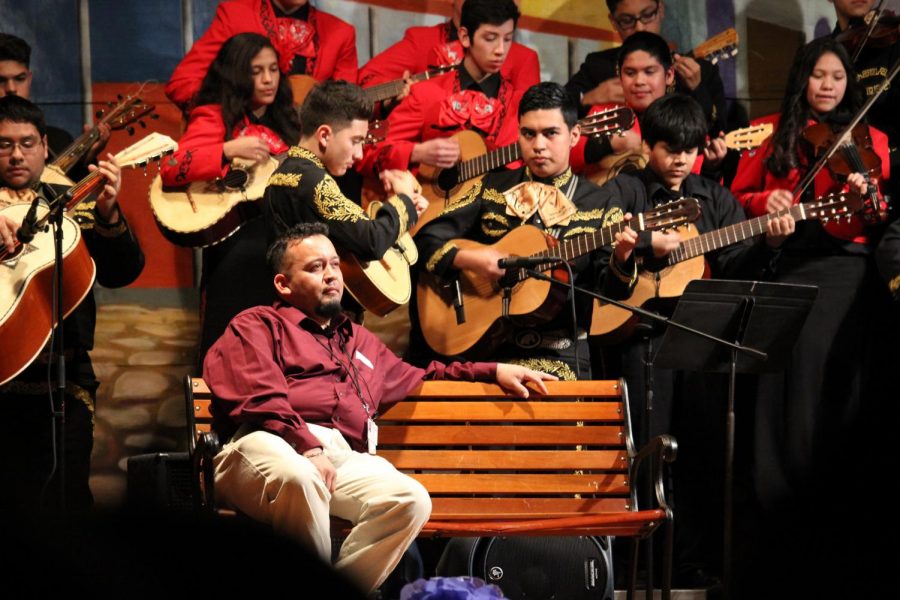 Music programs are well heard of in public schools. The most popular would be marching bands or choirs. As for these predominantly Latino and Hispanic schools, things are a bit different. They have a marching band like in any school, but they also have a fairly unique music program. Patrick Henry Middle School (grades 6-8th) and Sam Houston Math Science and Technology Center (grades 9th-12th) have a mariachi program led by Professor Jose Longoria.
Longoria has been an instructor for over 20 years. He first began as a math instructor at Patrick Henry Middle School. It was then when school principal at the time found out Longoria was also a mariachi musician on the side. Principle Banda then proposed the idea of creating an after-school mariachi program for students. With only being granted a trial year.  As significant results and enthusiasm in the kids, the program then took a vital role as part of an elective course as there were significant results in the success of students through middle school. Longoria also began to notice students who desired to continue in the program were saddened. As transitioning to high school meant leaving the mariachi program behind.
When the proposal of the program to sister high school in the community became a reality in the year 2010. Hence starting in an instrument closet joint the band room and little support from the high school staff at the time the program has grown so much after the years. Students have been following the program since middle school wanting to attend Sam Houston to continue in the program alongside their beloved instructor.
"I believe that any time a student is granted the opportunity to belong to something. It is made easy to have them fall in love with the music and learning how to play an instrument"Longoria expressed. As he is asked what he believed was behind the success of the mariachi program. Longoria also explains that the mariachi program not only allows students to have a feeling of belonging; they become successful not only in music but also in their core classes. " I set expectations to the students to where if they want to be able to perform in the mariachi activities and attend the field trips, their grades have to be passing. We allow our students to catch up on their homework during our class period. As well as provide them with our assistance if they do not comprehend a subject," Longoria explains.
When asked what led this professor to this career path, his response was, "I believe God brought me to this career path." Thus being a 4th generation mariachi, it was expected Longoria to have mariachi music in his blood. Being able to share his passion for music and culture with students has been his greatest motivation. The greatest reward of his job working, building relationships with students and parents, and also making a difference in their lives. "At the beginning of our careers teachers, we don't get to see the impact on our students until years have passed. Bumping into them on the street to see them as successful adults" -says Longoria.
The Mariachi program has proven to be exceptionally successful not only by maintaining our youth occupied in a positive activity but also by shaping our future leaders. With achievements such as; performing for several major T.v. Shows,  at the Houston Livestock Show and Rodeo, both Disney parks. The only concern for this professor is that many students and their parents are opting to send their kids to other schools like KIPP or Yes Prep. Due to some negative comments, they may hear from other members of the community.
However, Longoria remains positive in the future of the program as he keeps striving to bring attention to the magnificent job of these talented young men and women.