Splatoon 2: Still fresh and off the hook
Are you a squid, kid, or even an Octo? The world of Splatoon transforms once more with an expanded world, as well as new weapons and stages.
During the course of E3 2018, gamers all over the US were gazing upon the upcoming releases of the latest games from consoles such as PlayStation 4, XBOX, and PC. However, Nintendo takes the cake this year with Splatoon.
Splatoon is a new original franchise from Nintendo that showcases human-like squids, called Inklings, that participate in ink turf wars using weapons shaped of rollers, paintbrushes, and paint guns. The first game, which came out in May 2015 on the Wii U, was critically acclaimed for its originality. Its sequel, Splatoon 2, came out on July 2017 with new features such as hairstyles, clothing, as well as new stages. Fans were eagerly waiting on the day Octolings, who are octopus-hybrid kids and the lifelong rivals of the Inklings, become playable since the first game came out.
During the Splatoon 2 showcase, they announced that they will continue rolling out updates on a monthly basis until the end of 2018. This would encourage players, new and old, to try out brand new strategies in both Turf Wars and Ranked Battles such as Splat Zones and the newly-released Clam Blitz mode, which is a "collect-them-all" mode where the team with the most clams wins the match.
Their most recent update was that one of their maps, Starfish Mainstage, will undergo maintenance for the whole month of September. No word on new weapon releases or stages at the time of publication.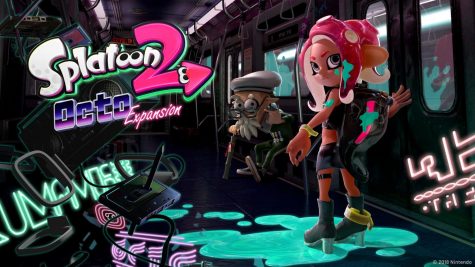 These updates include new weapons, maps, and maintenance patches. Their biggest update yet, which dropped during E3, would allow players to play as Octolings.
Octo Expansion
Splatoon 2's very first paid-DLC has fans struggling and pacing through 80 of the hardest levels in the game's history. Splatoon 2: Octo Expansion is one expansion. you'll be grinding your teeth on.
Released on June 14, the player now has the ability to play as an Octoling in this single-player expansion.
As you start, your character will wake up from amnesia. Your goal is to leave the deep dark sea and reached the Promised Land, which is Inkopolis. To do so, you are given the mission to find the four "thangs" that are scattered throughout the Deepsea Metro. You meet up with several characters who will help the main character out on their journey, notably Cap'n Cuttlefish, the leader of the Squidbeak Splatoon, as well as Pearl and Marina, who are Inkopolis' latest pop stars.
Although there are 80 levels in the DLC for the player to complete, the best part is that you do not have to complete them. Your main goal is to find the four "thangs" within the Deepsea Metro lines. Each of the 80 levels have eraser-like trinkets, called "mem-cakes", which allows your character to recover her lost memories due to her amnesia.
And these levels? Ooooo. They are TOUGH!
Well, some levels are tough, some are easy. Each of the 80 levels pose different challenges for the player to complete. All of them have an objective, and it depends on whether you use certain weapons, bombs, or even no weapons at all. The player pays a certain amount of CQ Points, the currency of the Deepsea, to start a challenge. Levels consist from splatting a certain number of enemies, to dodging enemies for a certain amount of time.
Each level posed different parameters. For example, if you get hit during a dodging challenge, you automatically fail. According to some players, there were a few of the levels in the game that the "Ask For Help" option needed to be used; which grants the player an automatic pass through the level, but does not grant them a complete "mem-cake".
Players who are looking for new gear for their in-game characters (both Inklings and Octolings), once you complete each line in the expansion grants you exclusive rare items that are not found in the shops of Inkopolis. According to Nintendo, they will be releasing Octoling Amiibo in December, which gives you even more items to collect for your character.
Completing the Octo Expansion grants you the ability to play as an Octoling in multiplayer mode.
If you are looking for a challenge that will definitely make you a little frustrated, consider downloading the DLC for Splatoon 2. It's only $20. The rewards are worth it if you achieve the goal of reaching the Promised Land aka Inkopolis. Also, completing 80 of the levels grants you a special event. Good luck if you do take the challenge.