Hunger Games: HCC volunteers at Houston Food Bank
The whole month of September is Hunger Action Month, and Houston Community College is participating in a variety of ways with the help of the Houston Food Bank.
On September 8, HCC students, faculty, alumni, as well as their family and friends gave a couple hours of their time to help as many families as they could; even those families who are still trying to recover from Hurricane Harvey last year. More than 600 students volunteer every year and over 60,000 pieces of food are sorted and delivered to needy families and children thanks to HCC, according to their Facebook page.
Other schools and groups such as Baylor College of Medicine, and the University Of Houston were also in attendance to volunteer. They collaborated with HCC.
Some HCC volunteers have already given their time to the Houston Food Bank in the past. Some, such as Atinuke Akingbade, professor of Geology, was her first-time volunteering at the food bank. Her brother, who is visiting Houston from Nigeria, accompanied her on this wonderful experience.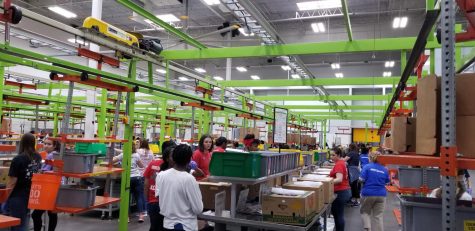 "My kids are out of the house, so I ended up having nothing to do," she said, "I feel like with this extra time I could be helping other people."
Another first time volunteer, Donna Rhea, professor of Government, wanted to do something special on that day as she prepares to give her time to the food bank.
"I am doing this for my mom, who passed away [a few months ago]. Feeding the hunger was her passion," she says, "It's her birthday today, so it's very special to me."
Some volunteers were spread into three groups. One group sorted out non-perishable foods in plastic totes, which determines which foods that were donated were expired and/or appropriate enough for consumption, then placed in boxes in preparation to give to consumers. Another group helped out with fresh produce, which placed a certain number of onions, carrots, and potatoes in one large bag. Children became an essential part of this group.
Akingbade enjoyed her experience as a first timer, and so did her brother. "It's beautiful, and it made me open my eyes to the world," she says. She will be returning to the food bank to volunteer again with HCC.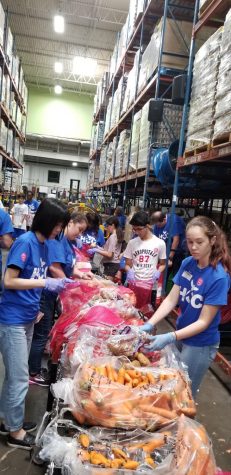 Each HCC volunteer received a T-shirt with the social media hashtag that says #HCCServes,
Not only you can donate time, HCC will have food donation boxes all over campus for students and faculty to donate non-perishable foods. Whole grain pasta, rice, canned goods, and other non-perishable foods are highly needed and the food bank greatly appreciates it.
You can also donate online. Houston Community College has pledged $5000 toward the Houston Food Bank.
If you are interested in volunteering for the Houston Food Bank with HCC, the next service dates are Saturday, September 22, and Saturday, September 29 from 1pm to 4 pm. For any questions, you may email the coordinator, Norma Olivia Garcia at [email protected]