HCC Hosts FIFA Tournament
Tuesday, February 12th at Central Campus, there was a FIFA 19 tournament hosted by Shaneisha Weir of HCC rec sports. Weir told me that this was the first time that the event had worked with Microsoft and streamed it live on Mixer. The tournament was made up several contestants trying to win the grand prize, a choice of either a PlayStation 4 or Xbox One.
The tournament format was a single elimination made up of two brackets each having its own winner. During gameplay, if the match happens to go into extra time a golden goal would decide the winner, but a penalty shootout would go as normal if the two contestants are still tied after both extra times. The event kicked off with two matchups, Artur (who did not wish to reveal his last name) vs. Omar Ibrahim, and Kubilay (no last name given) vs. Carlos Torres. Of the two matchups, Omar and Kubilay advanced being the first pair of winners. Omar, who is from Egypt, is at HCC studying business, this is his second semester and is graduating next spring. Kubilay of Denizli, Tukey is here at HCC to study automotive technology, he is expected to graduate in two years.
Kubilay, who has a disability on his left hand, said "Everyone asks me, how do you play with a disabled hand? And I say to them, I play, you do not play with your hand you play with your brain… FIFA is my childhood and still my game, and I love FIFA." Kubilay has been playing FIFA since FIFA 09 and has not played in six months because his PlayStation is back home in Turkey. Kubilay beat Carlos two to one in extra time after scoring a golden goal, but was unfortunately knocked out the round after.
Omar, who has been playing since FIFA 10 explained where he learned to play FIFA, saying "In the beginning, I was confused when I played FIFA because I was playing PES (Pro Evolution Soccer) and it's totally different so my friends told me how to play it and I started to practice,"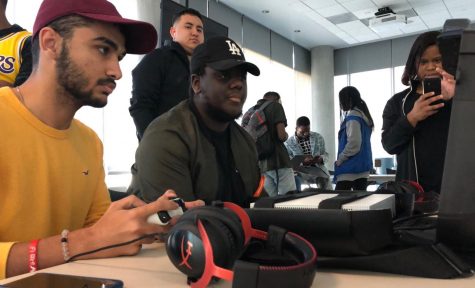 Omar, won the first final against Nigerian Student Simon who is enrolled at the University of Houston but is at HCC taking calculus, he has played FIFA regularly since FIFA 08. The final score was two to zero. And Omar was all smiles as he took home a new PlayStation 4.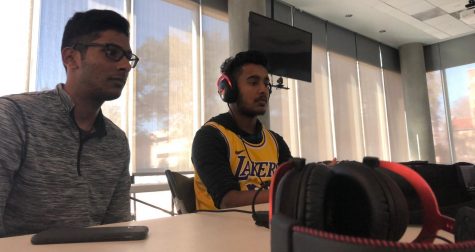 The second bracket began soon after Omar's win. Reigning defending champion Melfi, who is studying liberal arts here at HCC is hoping to move to a four-year college and study supply-chain management. Melfi made it to the semifinals and lost to student Alan of India who is studying Nursing. The other semi-final fixture had Joshua Joy, a student from India who is studying Nursing winning. Alan was dominating the competition as he defeated defending champion Melfi six to three. The second final had Joshua and Alan go at it, in what was a tight affair as the final ended one to zero. Alan who came into the tournament confident he could make some moves, emerged victoriously and chose a swag bag that will contain $60 worth of gear from his favorite club. Alan has been playing FIFA since FIFA 08 or 09 and is still paying to this day.
Honorable mention. As far as gaming goes Kubilay showed me that there is no such thing as barriers in the activity but instead it is all in the mind. Aaron Ruiz, a student in the HCC VAST academy, was all smiles at the tournament. Even though he lost in the first round he did not go down without a fight, as he was able to put a point on the board, Aaron, unfortunately, lost two to one. This will be Aaron's second year second semester in the VAST academy and will be graduating in May.