Photography instructor hosts workshp on mobile phone photography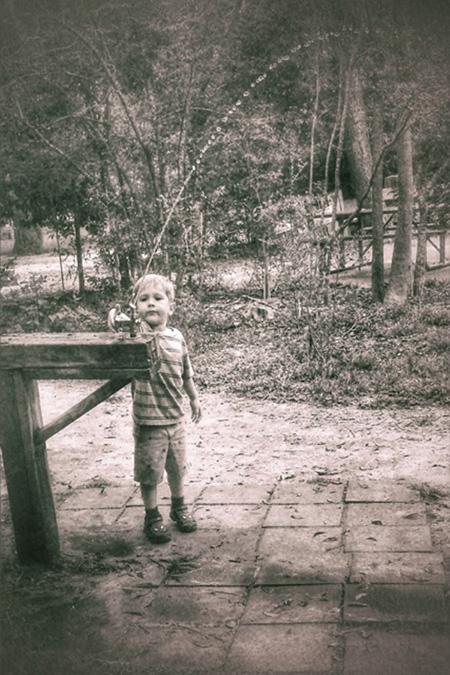 John Cañamar
October 14, 2014
HCC photography instructor Andre J. Hermann hosted a free photo workshop on Saturday Sept. 27 from 10AM-2PM at the Southwest West Loop campus.
Hermann is an award winning photographer. In the workshop, he discussed the do's and don'ts of mobile phone photography. Hermann covered how to be covert in street photography, steps in post-production, and more. The workshop concluded with a photo walk at a nearby park.
Hermann based the workshop off of the iPhone platform, but his tips work with any cell-phone camera and with most digital cameras.
Participants ranged in age from 19 to 67. In attendance were 14 students of HCC-West Loop and two members of the neighborhoods surrounding the campus.
Hermann started off by asking the group, "Who has one of these in your pocket?" While holding up his iPhone. He continued by asking, "If you have one of these, then you have a digital camera with you all the time. Why not use it?"
He gave a short history of photography and the road leading to present day with the easy access to cameras. He talked about how the majority of our society is carrying one at all times in their cellphones.
Hermann explained how to hide your phone or conceal the fact that you are on the camera feature of your phone when trying to capture your shot in a street photography setting. Simple tidbits like not staring into your phone screen and making eye contact with your subject to slightly more advanced tips like using the volume control of your headphones to control the trigger of the camera. The majority of the tips are common sense yet so basic that most people over look them. Alice Martinez-Mellado, a member of the HCC Southwest Photography Club said, "I learned a lot during the presentation that some would think common knowledge. Thank you for explaining things the way you do."
Hermann stresses that capturing the image is just the beginning of creating a great image. He emphasize that post-production is just as important if not more important as composing the image. Hermann likes using apps such as Snapseed, VSCO Cam, EyeEm and Wood Camera for editing right on the phone. All of these apps have multiple filters and adjustments to fine tune and polish your images.
After a question and answer session the group broke for a short lunch break. The group met at Russ Pitman Park in Bellaire two miles south of HCC-West Loop for a photo walk led by Hermann. While at the park the participants were able to use the newly acquired skills and capture a wide range of images. Some of the images can be seen on Instagram under the hashtag #SWPHOTOWALK92714.
Yan Tsang, also a member of the Southwest Photography Club posted on Facebook, "Thanks for the class! It took me to another level of photography! Now I can take good pictures with my phone and not worry when I don't have the steel hanging around my neck or shoulder."
Hermann has a second workshop scheduled for Saturday Oct. 18 from 10a.m. to 2p.m. in room C233 at HCC-West Loop to discuss how to mat and frame your photos. This workshop will also be free of charge. HCC Southwest Photography Club is on Facebook here.