Kershaw was one pitch better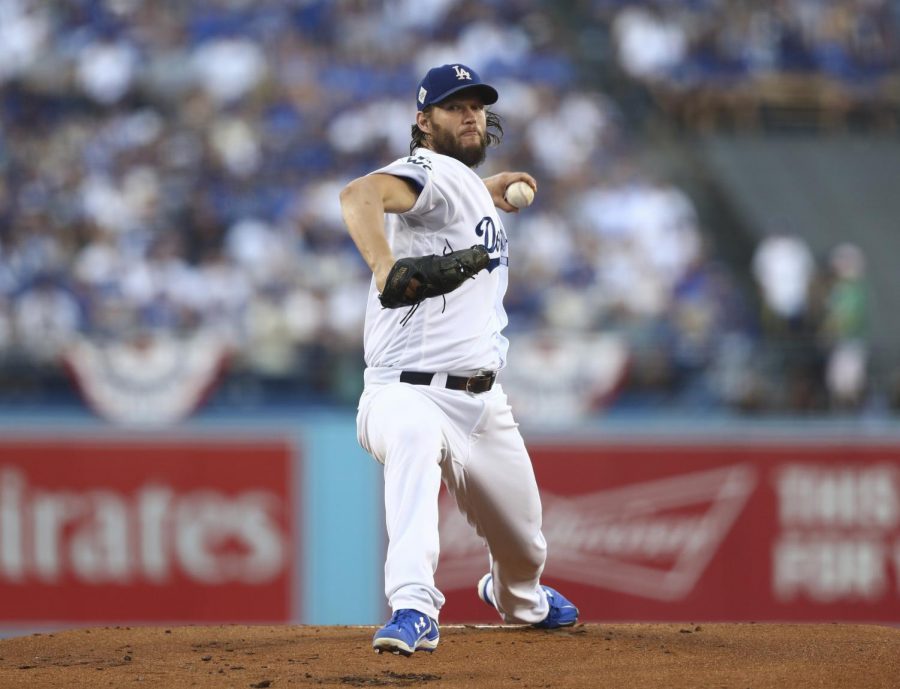 John Cañamar, Sports Editor
October 24, 2017
Opening night of the 2017 World Series lived up to the billing with Clayton Kershaw and Dallas Keuchel throwing for their respective teams. Kershaw was one pitch better in the 3-0 Dodgers win.
With the heat over 100 degrees, both teams took the field for the Fall Classic.
Kershaw set the tone for the game retiring the top of the first inning with nine pitches.
"I felt good. It's a tough lineup over there," Kershaw said. "The way Keuchel was throwing it was up and down a lot, which was good. It got us into a rhythm a little bit. I think for me personally, it helped out a lot."
Keuchel followed suit only throwing 15 pitches, with the exception that his first of the game went on a 447-foot trip off of Chris Taylors' bat.
Kershaw would only face three batters above the minimum in his seven innings of work. Kershaw finished with 11 strikeouts, three hits and one run allowed for the Game 1 win.
Kershaw said, "Definitely feels good to say it was the World Series, and it feels good to say we're 1-0."
Kershaw has battled postseason woes in the past but has been just short of perfection this year. Kershaw is now 3-0 in four starts, pitching 24.1 innings with 27 strikeouts and an ERA of 2.96 and a WHIP of 0.82.
"He was as good as advertised," Keuchel said of his counterpart.
Keuchel was no slouch by any means himself with a 2-2 record and an ERA of 3.00. Keuchel has 28 strikeouts and a WHIP of 1.08 in this postseason; the ace of the other teams who have shut down Houston's dangerous lineup have just opposed him in his outlining's.
"Keuchel was really good tonight. He was just a pitch or two less than Kershaw," manager A.J. Hinch said.
The Astros lineup who were the least struck out and most potent hitting group during the regular season were held to three hits and were fanned 11 times in game one.
Game Recap
After Kershaw retired the Astros in order in the first inning, Taylor was determined not to allow Keuchel to do the same to the Dodgers. Taylor swung on the first pitch 87-mile an hour fastball and parked it in the left field bleachers 447 feet away.
Kershaw would have his one blemish come in the fourth inning when Alex Bregman homered to left field on a 1-1 count fastball left belt-high in the center of the plate.
Keuchel would face only 17 Dodgers after Taylor, thanks in part to his ground ball inducing pitching and stud filled infield who turned three double plays. Keuchel then walked Taylor on five pitches with two outs.
Two out walks seem always to come back to bite, and this one stayed true when Justin Turner hit a two-run home run just out the reach of Marwin Gonzalez in left field for the 3-1 Dodger advantage.
The bullpens for both teams would come in and keep the score the same and not allow either team to do anything with their bats.
Game 2
There is no time to cry over spilled milk or celebrate for game two of the series is tonight.
The Astros will trot out Justin Verlander, who has been a perfect 9-0 since coming to the Astros on the last-minute trade on August 31.
Left-hander Rich Hill will take the mound for the Dodgers who will try to keep home field advantage and go up 2-0 tonight.
First pitch is at 7:08 Central Time at Dodger Stadium.