Astros lose twice in Monday's game
Carlos Correa re-injures thumb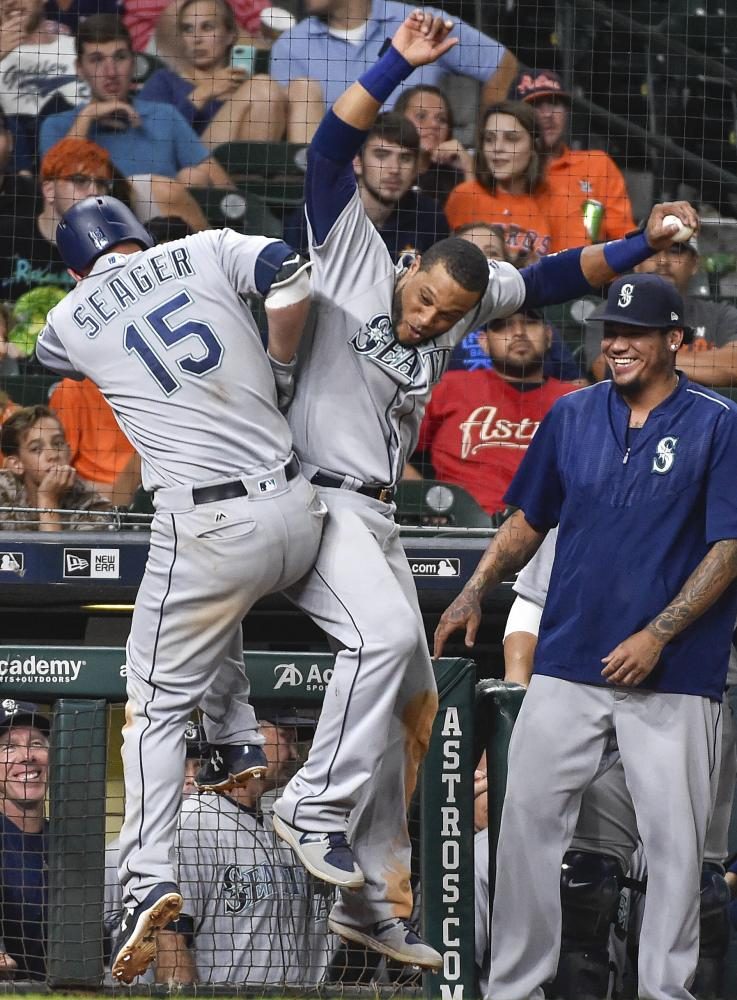 John Cañamar, Sports editor
July 18, 2017
Astros lose twice in Monday's game; first the game 9-7, but more importantly Carlos Correa reinsures left thumb and was pulled out of the game. Kyle Seager and Danny Valencia hit back-to-back home runs off of Tony Sipp in the 10th inning to win the game for Seattle 9-7, loss one.  Loss number two is more daunting for the club, Carlos Correa reinjured his left thumb while swinging his bat in the fourth inning.
The Mariners had four home runs to beat the Astros, but it was the superb plays by Jean Segura in the bottom of the ninth that gave them the opportunity to play in extra innings.
Segura record assists on all three putouts in the ninth to prevent the Astros from walking off the field in celebration.
With Josh Reddick standing at second, Segura backhanded Marwin Gonzalez shot and threw him out at first for out number one.
Reddick was then gunned out at home by Segura on a fielder's choice hit by Nori Aoki, out number two.
Segura's best play was yet to come; after the bases were loaded on an intentional walk, Segura made a second backhanded grab of the inning before tossing the ball to second forcing the third out of the inning.
"The defense Jean throughout there was just unbelievable," manager Scott Servais said. "The backhand stop that was the key out in the inning getting the first out with Marwin Gonzalez. Then the play at home, the backhand with the force play. There was a lot going on that inning."
"I knew the only chance I had was the force at second," Segura said about the last play of that inning. "It was just 'go get it.' It was the last out, and if I don't get it or make an error, they win the game. I tried to make the play as quick as I could."
Yovani Gallardo picked up his fourth win of the season giving him a 4-7 record; Tony Sipp moved to 0-1 with the loss.
___
Game Recap
Top of 1st
Robinson Cano reached base on a throwing error by Lance McCullers allowing Segura to score from second base. (Sea 1 – Hou 0)
Bottom of 1st
Correa hit a sacrifice fly to right field, George Springer tagged and scores from third. (Sea 1 – Hou 1)
Bottom of 3rd
Jake Marisnick homered (11) to left field. (Sea 1 – Hou 2)
Top of 4th
Valencia doubled to left field, Seager scored from first.
Mike Zunino doubled to left field, Velncia scored from third and Jarrod Dyson scored from second. (Sea 4 – Hou 2)
Top of 5th
Seager singled to shortstop; Ben Gamel scored from third. (Sea 5 – Hou 2)
Bottom 6th
Yuli Gurriel singled to center, Gonzalez scored from second.
Carlos Beltran homered (12) to left field, Gurriel scored from first.
Springer drew a walk; Brian McCann scored from third. (Sea 5 – Hou 6)
Top of 7th
Nelson Cruz homered (20) to left field. (Sea 6 – Hou 6)
Top of 8th
Zunino homered (13) to left center. (Sea 7 – Hou 6)
Bottom of 8th
Springer sacrifice fly to center field, Aoki tagged and scored from third. (Sea 7 – Hou 7)
Top of 10th
Seager homered (13) to right field.
Valencia homered (11) to right center field. (Sea 9 – Hou 7)
___
Injury Front
Correa will have his thumb re-evaluated today. "I've been playing through some pain the last couple of days and hopefully, it's nothing big," Correa said. "I felt a lot of pain in my finger and felt like I couldn't go back in there."
Dallas Keuchel in his first rehab assignment allowed two hits with one walk and three strikeouts in three innings for Double-A Corpus Christi on Monday night.
___
Tonight's Game
Sam Gaviglio (3-4) for the Mariners and Brad Peacock (7-1) for the Astros will start on the mound.
Game time is 7:10 from Minute Maid Park.