Gurriel hits a grand slam, in 7-2 victory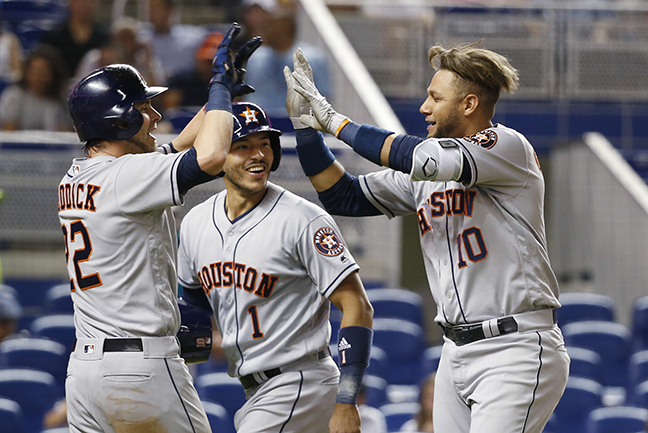 John Cañamar, Sports Editor
May 16, 2017
Yuli Gurriel hits a grand slam on a 94 mile-an-hour fastball.
Miami's Dan Straily had the formula on how to keep the Astros bats silent, allowing only one hit in five innings.
After having a successful four innings of work, Straily was hit by a comebacker to the mound and was lifted from the game after completing the fifth inning.
"The ball caught me right on a muscle on my foreman," Straily said. "I'm very fortunate that it wasn't at my face or hitting any bones in my arm. I got pretty lucky in that regard. Hopefully, it's just a sore muscle in my arm."
The Marlins were first to score on a Christian Yelich single to right field that scored J.T. Riddle from second base.
In the top of the sixth Josh Reddick would double, Carlos Correa would draw a walk and Evan Gattis would then be hit by a pitch to load the bases.
After seeing three straight fastballs, Gurriel took a 94 mile-an-hour fastball to left-center field for a grand slam to take an Astros 4-1 lead.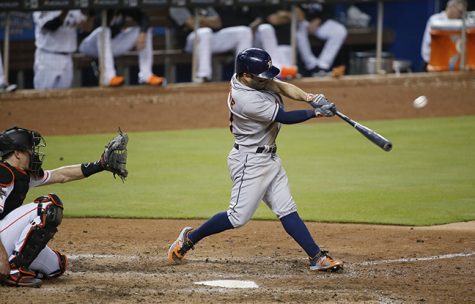 In the seventh, the Astros would load the bases once more. Jose Altuve would cash in with a two-run single to left field scoring Norichika Aoki and George Springer, Astros 6-1.
In the bottom of the eighth Justin Bour hit a homer off of relief pitcher Luke Gregerson to inch the Marlins closer, Astros 6-2.
In the top of the ninth Altuve hit his sixth home run of the year to finish the scoring of the game, Astros victory 7-2.
Joe Musgrove earned the win after giving up one run in 5 2/3 innings, giving him a 3-3 record for the year.
Altuve was hit in the left hand/forearm area by Straily in the first inning.
"In the moment I felt it a little, but then it went away," Altuve said. "I was able to swing the bat, so I feel good, especially because we won."
Springers 13 game hitting streak came to an end after going 0-5 in the win.
___
Dallas Keuchell (6-0) will take the mound tonight for the Astros against Tom Koehler (1-1) for the Marlins.
First pitch is at 6:10 P.M. at Marlins Park in Miami.
Houston LHP Dallas Keuchel (6-0, 1.69 ERA) tries to become the first seven-game winner in the majors when he starts Tuesday night against RHP Tom Koehler (1-1, 5.60).