Seattle rallies in the ninth inning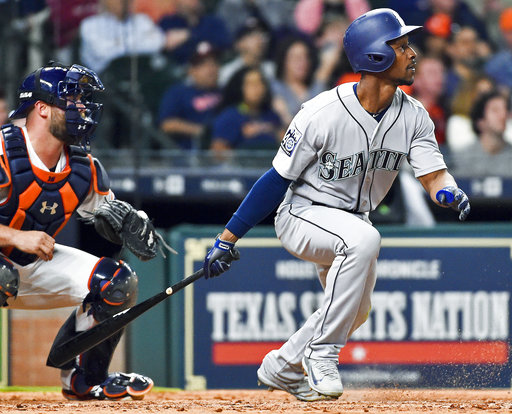 Seattle rallies in the ninth inning to get their first win of the season, handing the Astros their first loss of 2017.
Going into the ninth inning of game four of four in the series between the Astros and the Mariners it was all knotted up at two.
Jarrod Dyson hit a tiebreaking RBI single after Danny Valencia walked with one out and Carlos Ruiz was pdotted by Ken Giles. Jean Segura drove in an insurance run later in the inning to lift the Mariners to a 4-2 victory over Houston.
"It was good to get that hit," Dyson said. "It was even better to get the win."
"It has been a struggle for us getting the big hits driving some guys in," manager Scott Servais said. "We had some chances early in the game and were scuffling … we were due to have a couple fall in."
George Springer started the night with his second leadoff homer of the year and third overall putting the Astros ahead 1-0. Springer homer in the first gave him two consecutive at bats with a homer going back to the walk-off home run in Wednesday's 13th inning thriller.
Mitch Haniger homer for the Mariners in the third tying the game at 1-1.
Marwin Gonzalez added his second homer of the year with a solo shot in the third to put the Astros up 2-1.
Kyle Seager's RBI tied it in the sixth, until the ninth where the Mariners scored twice and claimed the game.
The win for the Mariners finished the opening series three games to one in the Astros favor.
"We haven't swung the bats perfectly but again you focus on the good stuff," manager A.J. Hinch said. "We won three out of four against a division opponent."
Houston starter Joe Musgrove allowed five hits and two runs while walking three in five-plus innings.
Dan Ariel Miranda yielded five hits and two runs in five innings.
___
Collin McHugh had a rehab start in Triple-A Fresno where he gave up three hits and three runs in an innings work.
Mariners travel to Los Angeles to play the Angels for a three-game series.
Astros will host the Royals starting tonight when Mike Fiers will face up against Jason Vargas.
Game time is 7:10 at Minute Maid Park.