Dr. Siddiqi excited for future of college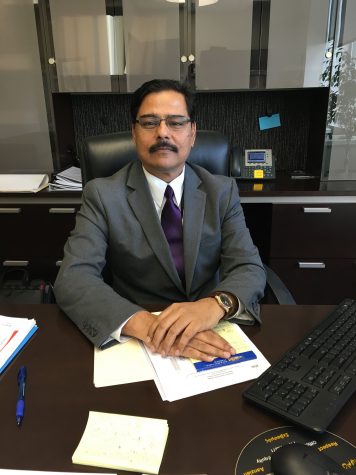 On February 1, Dr. Muddassir Siddiqi took office and became the new Houston Community College Central President.
"I strongly believe that our urban centers or these large cities, are a very critical factor of our national competitiveness as a nation and as a whole and our ranking in the world economy because these urban centers are very diverse and they have a significant number of residents who need educational services at affordable cost."  Dr. Siddiqi continued, "I was looking for a structure where I could go and play my small role as one person in collaboration with other people to make change in our offerings or academic programming in the best interests of the students."
Dr. Siddiqi came from Morton College in Cicero, Illinois and considered Houston a perfect place to continue his career citing his passion for working in big cities and urban centers.
What helped him make the decision of not only moving to Houston but to join Houston Community College was HCC'S number one ranking in awarding two-year degrees to minorities and serving more international students than any other community college.
"That reflected a lot, and had a lot of meaning to me," said Dr. Siddiqi. After finding out that information it increased his enthusiasm and enhanced his flair and interest. He was impressed with the way HCC was helping students with their financial need since most students cannot go elsewhere.
Dr. Siddiqi says he came to HCC to be a part of the movement of helping students go to college at an affordable cost and then go on to a 4-year university join the workforce or obtain higher pay at their job.
This concept is a familiar and personal one to Dr. Siddiqi who faced his own financial hurdles that community college helped him to overcome. Before working within the community college system Dr. Siddiqi was employed overseas. He was delivered a crushing blow when he was told that he would need to complete a course that would cost $3,500. He immediately thought about the financial burden it would take on his family.
"I was very concerned and scared of the outcomes of not doing it," he said. While talking to a neighbor he was told that his local community college offered that necessary class for an extremely cheaper price. Once he signed up for it and went through the enrollment process he only had to pay two hundred and thirty-four dollars. "Community college rescued me in my bad time and since then I have become a patriot of community college," said Dr. Siddiqi.
He was promoted in a business corporation that was in a different community college district and was asked to serve in their advising committee for a manufacturing program that tied him with Harper College in Illinois. With the connection of the Harper College he was able to interact with the college and join the other academic advising. He received an offer from a community college to go work there full-time. He knew he would have a huge pay-cut but, to him it didn't matter, he wanted to work with students. To him, it was like a dream come true.
Dr. Siddiqi believes community college creates a pathway for students to go on to universities or to join the workforce. "It's a beautiful channel for students coming out of high school, well not even high school, adults who left their education years ago and want to come back."
Dr. Siddiqi has a goal to provide the access and technology needed to make students successful on their path to a career. He plans to sit down and connect with students to discuss their experiences are with classes. He wants it to be made clear that he does not want to just sit in his office all the time, he wants to do more for students.
"My goal will be to enhance the level of services to our students, to enhance the level of access points to students so they could approach and access these services from multiple points at Central Campus and also at South Campus."
The father of three boys says he supports them and advises them to start at a community college first then transfer, further proving his commitment to community colleges.
He likes what community colleges have to offer and how they help students in their education. He believes in the mission of Community Colleges. "Community Colleges are very important part of the community. You would be surprised to know how many students are now in medical school [from community colleges] and this number has been increasing"
Dr. Siddiqi says students are his number one priority and he wants everyone to be successful like the college he knows can be. He wants to give students the best opportunities for scholarships, better financial aid, and bring different recruitments to notice the students at Houston Community College. He would like to have more visitors as speakers to inspire students to succeed.
"If I am a president, I am a president because[of] you guys are here: students."