Chancellor praises college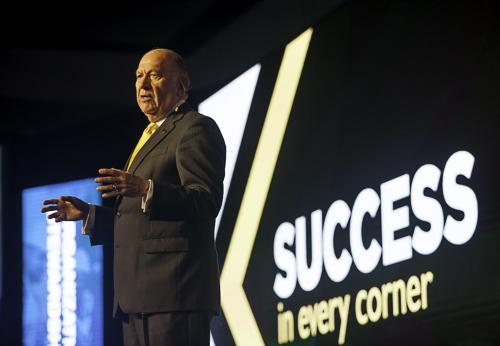 Chancellor Cesar Maldonado shined a spotlight on the college's improvements and successes at the annual State of the College address.
"There are not many institutions in the country, or in fact the world, that have [this] scale, that change the lives of so many," said Maldonado, "we do it at the scale Houston needs to support its growth."
He addressed a group of Houston Community College administrators, faculty, students and potential donors at the George R. Brown Convention Center on Feb. 27.
HCC's Laurels
According to numbers crunched from Integrated Postsecondary Education Data System, out of 1,905 community college's, HCC is number one in awarding associate degrees to all minorities. Breaking down the 2016 graduation numbers, the college had 1,792 African American graduates; 2,249 Hispanic graduates and 834 Asian graduates.
Many HCC students come from economically disadvantaged backgrounds, roughly 33 percent of all HCC students are Pell Grant recipients. That means 2,929 HCC students benefit from the federal financial aid program for needy students. The HCC Foundation also helps students afford their education by awarding over 2,900 scholarships to students.
HCC is also the number one community college for enrolling international students. Last year, 2,555 international students chose to call Houston their home-away-from-home and enrolled at HCC.
HCC is helping more than 3,000 local veterans and their dependents with the new Veteran's Academy helping them earn a degree or workforce certificate faster. Busy students can earn a degree by attending class only on the weekends at HCC's Weekend College.
Students can continue their education after college, HCC has 49 university partnerships to help students transfer to a four-year university to earn a bachelor's degree.
Update on College Transformation
It's been nearly two years since the Chancellor unveiled his college transformation plan to transition the college from operating as six separate colleges—Central, Coleman, Northeast, Northwest, Southeast and Southwest—to one college with 15 centers of excellence.
"Transformation is changing our institution from the ground up," said Maldonado, "we're well on our way to engage the system-wide resources that we have to increase student success."
Transformation changed how the college operated and eliminated waste on many levels. For example, instead of having six English Department chairs—one for every college except the Coleman College for Health Sciences—now there is only one department chair because their is only one college. Not everything about the college has transformed, at least on the surface. HCC still has six college presidents.
The student experience varied greatly depending on which side of town a student enrolls in classes at, the difrence started before a student stepped into a classroom. HCC had no standard new-student orientation. Due to administration efforts, that is at least starting to change. Application processes are being streamlined and every campus will have a career center to assist with advising.
"We are transforming the way HCC provides the ultimate student experience," said Maldonado.
"Transformation has a beginning," said Chancellor Maldonado, "but it's not going to have an end."