'Let the Right One In' terrifies and charms on-stage
You cannot help but fall in love with this quirky vampire. Lucy Mangan plays the ghostly Eli in 'Let the Right One In' showing in Houston at the Alley Theatre until March 19.
Throwback to 2008, and 'Let the Right One In' was debuting as a critically acclaimed and highly rated romantic horror movie. Today, the National Theatre of Scotland kills the stage adaptation the screenplay.
Despite her violent moments being utterly terrifying, the rest of the time Eli actually charms with her strange reactions and come back remarks. Her youthful joy and adolescent awkwardness both overcome her ghoulish nature when she is with Oskar.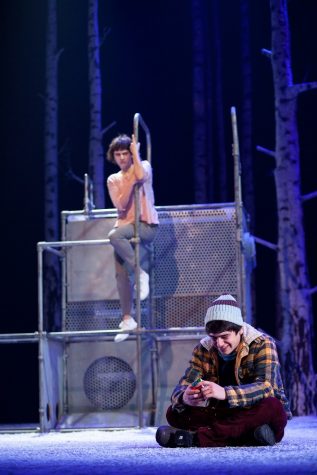 The storyline is right off the paranormal teen romance book shelf. What sets this plot apart is its message on bullying. The scenes when Oskar is bullied are harder to watch than the scenes when Eli sinks her teeth into some poor soul. Eli's violent tendencies are part of her bloodsucking nature, she can't help it. The cruel and intentional tormenting makes a vampire feeding look like an act of charity.
However, Eli and the bullies share something in common. Oskar is picked on by the bullies because he is childlike and scrawny. Eli picks Oskar because he is a the social outcast neglected by his family, failed by his teachers and rejected and abused by his peers. It's almost hard to see Eli as a villain, but she preys on the weak just like the bullies. While it's arguable whether Oskar is better off at the end, it's clear he is not her first victim. While Eli is a lovable character, her relationship with Oskar leaves an unsettling feeling.
It's a whole new experience watching a horror movie play out live in front of your seat. Quench your thirst for blood by watching a few slit necks ooze with dark red (fake blood). It was surreal to watch someone drowning on stage. The technical side of bringing about a six-foot deep pool on stage an impressive feat of theater magic and mechanics.
The sound effects will give the cue of when to jump in your seat. Your heart will be pounding with fear along with the beat of the music. However, in some tense scenes, the sustained noise level equivalent to eighteen 18-wheeler trucks was too much. I wasn't the only audience member who covered their ears. It could have had the same fear-mongering effect at a few decibels below the pain threshold.
Some scenes can be confusing for a viewer who did not see the movie. Did he die? What exactly happened when Eli walked through the door? Some of the choreography or dialogue could have cleared up some of this confusion. Pursuant to the title of the show, understanding what happened when Oskar let Eli in seems to have some significance. Regardless, if you didn't see the movie, missing some particular plot points won't affect your enjoyment of thick, red blood.
If you're a vampire or a horror fan or enjoy romantic or coming-of-age films, you will enjoy this show. With lots of mature language and themes, this show would be best for mature 15-year-olds and up. Tickets start at $26 dollars. The show runs for about 2 hours and 20 minutes with one intermission.
This show is a stage adaptation by Jack Thorne, based on the Swedish novel and screenplay of the film by John Ajvide Lindqvist, and directed by John Tiffany.