Astros Avoid Salary Arbitration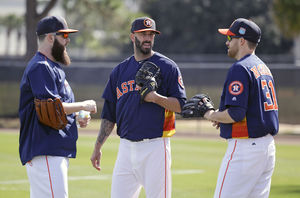 John Cañamar, Sport editor
January 20, 2017
The Houston Astros have been busy the last week tying up loose ends and preparing for the 2017 season. The Astros avoid salary arbitration with Mike Fiers, Dallas Keuchel, Jake Marisnick and George Springer.
Yesterday Fiers and the team agreed to meet in the middle at $3.45 million for a one-year contract.
Last year Fiers earned $524,100 while going 11-8 with a 4.48 ERA in 30 starts and one relief appearance.
Fiers stands to make an additional $350,000 in incentives:
$100,000 for winning the Cy Young Award
$50,000 for finishing second in the voting
$25,000 for third.
$50,000 for making the All-Star team
$50,000 for winning a Gold Glove
$50,000 for winning a Silver Slugger
$50,000 for being selected MVP of the World Series
$50,000 for being selected MVP of the League Championship Series.
Last Friday Keuchel signed an agreement for $9.15 million one-year contract. Last season Keuchel dropped in wins, innings pitched and batters faced, yet winning his third consecutive Gold Glove Award.
Keuchel made $7,275,000 last year. He is eligible for free agency after the 2018 season.
George Springer agreed to $3.9 million, a raise of nearly $3.4 million from his last year's salary of $522,400.
Springer played in all 162 games hitting .261 and driving in career highs in home runs (29) and RBIs (89).
Springer will become a free agent in 2021.
Marisnick signed a one-year deal for $1.1 million. Marisnick doubled his salary from $519,000 last year where he struggled at the plate but was superb on defense.
Yet to Sign and Avoid Salary Arbitration
Marwin Gonzalez, who made $2 million last year, is asking $4.2 million, the team is offering $3.25. Gonzalez was the team's utility player last season having played all four infield positions, the outfield and batted designated hitter.
Will Harris is asking $2.3 million. The Astros have countered with $1.95 million.
Harris last year made $525,500. He made his first All-Star game last season and had an ERA of 2.25 in 66 games.
Collin McHugh, who made $529,000 last year, is asking for $3.85 million and was offered $3.35 million.
McHugh started 33 games posting a record of 13-10 with a 4.34 ERA.