Shoot out at Toyota Center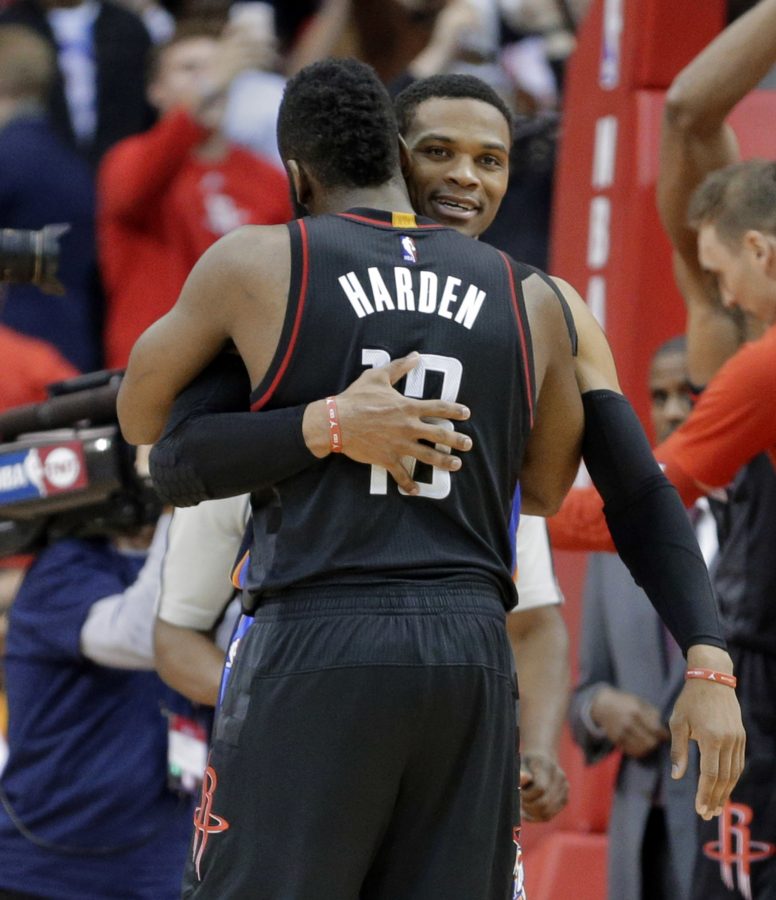 John Cañamar, Sports Editor
January 6, 2017
The Houston Rockets win a shootout at the Toyota Center over the Oklahoma City Thunder 118-116.
Russell Westbrook lit the scoreboard with 49 points in the game outscoring James Harden by 23 points, but Harden walked away with the winning team.
"There's going to be some close games in the postseason where we'll have to figure ways to close them out, and it isn't always going to be us making shots and it being perfect," Harden said. "We're going to have to get stops sometimes."
Making a stop is what the Rockets did. On the in bounce pass with only .7 seconds remaining Eric Gordon denies Enes Kanter from completing the alley-oop to tie the game.
Harden had 26 points and eight rebounds to go along with his 12 assists; his best pass of the night came in the winning seconds when he treaded the ball between two defenders to find Nene open under the basket who drew the foul for the game-winning free throws.
"I saw two defenders guarding me, and I saw Nene wide open," Harden said. "No matter if it's the fourth quarter with three seconds to go or the first quarter with 10 minutes to go, I'm going to make that pass. And my teammates know that, and he was prepared and ready for it."
Westbrook only scored nine points in the fourth quarter, missing a crucial 3-pointer in the last minute to take when tied at 116.
Westbrook was irritated when answering about the missed three.
"Did you see what happened? There's nothing to take you through," he said. "I missed the shot."
The Western Conference Player of the Month, Harden, had his 15th straight double-double in the Rockets sixth straight victory.
Patrick Beverley played his first game after missing two with a sprained right wrist. Beverley scored 11 points, eight rebounds and three assists, but was in pain after the game.
"No. It hurt (a lot). Wrist is throbbing right now," he said. "But for some reason every shot I shot felt good. I was able to do the hustle plays and energy plays. I'm just happy my energy was good. I would say I was solid defensively, but (Westbrook) scored 50 points. So I'm just happy he didn't get a triple-double, and we got a win."
Rockets take their six-game winning streak on the road to Orlando tonight to face the Magic.
Thunder will host the Denver Nuggets on Saturday.