Houston Walks 2 Vote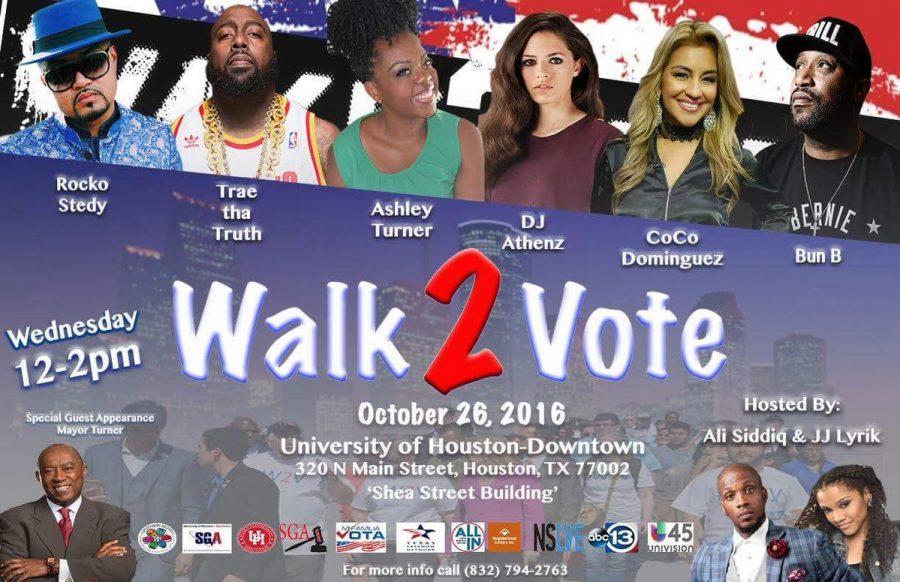 Michael Garcia, Egalitarian Staff Writer
November 1, 2016
University of Houston-Downtown hosted it's fourth year event of Walk-2-Vote Wednesday afternoon. John Locke, Chair of local and founder and chair of the National Walk-2-Vote estimated over 1000 plus participants, which included Houston Mayor Sylvester Turner, Congresswoman Sheila Jackson-Lee among others.
Immigration Liaison and Field Representative Ivan Sanchez, with the help of the Student Government Association at UHD started the movement back in 2012. November 1st, 2012, former Mayor Anise Parker walked with over 500 students to vote.
"What we did in the beginning of August is get my entire SGA deputized. There were about 75 people that were deputized.  And I thought 'let's multiply. Let's just not add'.  So in the main bloodstreams of the school we always had a table with cheerleaders and what not. And we were able to register 3,500 students to vote."
Maurice Barksdale, a UHD student, and former HCC graduate came to support the event as a volunteer. Barksdale is a Vietnam veteran who joined the military just as the war was wrapping up.
"I'm a veteran. It was my duty to serve this country. I'm a Vietnam veteran as well as all the other veterans. And we're here on behalf of the Student Veterans Organization as well as the SGA. It was our duty to serve this nation. It is still our duty to serve this nation civically by voting" Barksdale stated.
Texas has made an impression this year with it's turn out for early voting, making a national recognition for the mass of people participating.
"We have more people voting than 2012. I'm just so excited that America realizes that it's such a great country and that the world is watching" Congresswoman Sheila Jackson Lee stated.
High School students also attended the event from various schools in HISD to vote as well. The one's that could participate ranged from 18 – 20 years of age.
"I wish Bernie was still in the race" Juju, 18, mentioned.
This election year has been an interesting one, as both candidates have had high unfavorable ratings from citizens. A lot of speculation is also surrounding the impact that voters have. "Does my vote even count? Is the election rigged?" These are only few questions that have been raised. Both candidates have made an effort to engage young voters to rush to their nearest voting polls.
"Every vote is important, because your vote is your voice. It's especially important for millennials to step out and vote. People do look at whose voting. And when it comes to criminal justice, social reform, education, health care, and jobs; all of these issues are important to what type of future we are going to have. And whether or not we are going to have a divisive country, or whether or not we are going to have a country where we build relationships and not build walls" Mayor Turner stated.
The average age according to Ruben Ruiz, Chief of staff of the SGA is 33 years old in Houston, but the average age for last year's voters was 66 years old. That is a 30-year gap. Ruiz believes millenials have the numbers to make a difference, however less they are less involved.
This was the main theme for event, which is getting young voters to get excited in the political process. Ruiz mentioned that young voters should be informed when it comes to politics, not just in a national but local as well.
"We definitely are setting a model here in Houston for ways to work with young people in the community, bring them together and get them excited about voting" Locke stated.
The event was held in front of the business building, which was a first this year, after years before hosting it at the main building. Various organizations came to support the event, such as Spaghetti Warehouse, 95-7 FM, Univision Contigo, and Neighborhood Centers. Various artists made an appearance such as Rocko Stedy, Trae the Truth, Dj Athenz, and Bun B.
"Everybody should feel excited to be a part of this (election). This is a very distinct line in the sand that is being drawn in our country right now. I think people shouldn't be and I don't think they are afraid to decide what side of that line they want to stand on," Bun B stated.
The walk to began near 1:30 PM as students matched to Harris County Tax Office at 1001 Preston near the Downtown area.
"I challenge everybody if you're a responsible citizen that is going to vote, it is your responsibility, it is our responsibility to get 10 more people out that never voted out to the polls," Sanchez stated.
Early voting started on October 24 and ends November 4th.