Astros win first series of the year
The Houston Astros take two out of three games from Detroit Tigers claiming their first series win of the season.
In game one of the series, Dallas Keuchel pitched a gem, allowing five hits in eight innings of shutout baseball. Keuchel recorded four strikeouts and 14 groundouts while allowing only seven on base.
George Springer scored the one and only run in the game on a single to left field by Colby Rasmus in the first inning off of Tigers' pitcher Mike Pelfrey.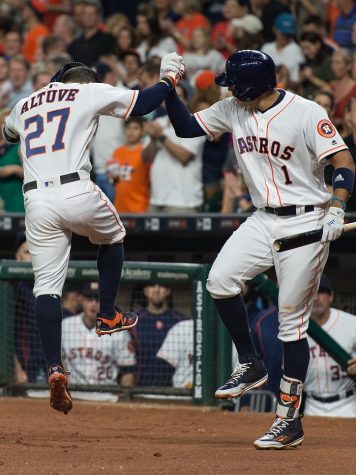 In the second game, the Tigers' Justin Verlander served up two home runs in the first inning for three runs before shutting down the Astros bats and giving his team's offense an opportunity to come back and score five runs to claim the 5-3 victory.
In the rubber game, the Astros bounced back to win it and the series behind Jose Altuve's 2 for 4 and three RBI night. The Astros had to hold on to their 5-0 lead while the Tigers chipped away at it but fell short to a final tally of 5-4.
Altuve was named Co-Player of the week of April 11 through April 17 along with Baltimore Orioles outfielder Mark Trumbo.
Altuve claims his second Player of the Week Award; his first was the week of April 27 through May 3.
Altuve hit at the clip of .407 going 11 out of 27 at bats; three doubles, three home runs, scoring eight runs, while driving in seven RBI's and swiping two bases.
Altuve led the American League in On Base Plus Slugging (OPS) with a 1.336. He also tied for first in hits and runs scored, second in slugging, tied for second in home runs and third in on base percentage at .484.
The Astros have now won the Player of the Week award the first two weeks in 2016 as rookie first baseman Tyler White took home the honors for the first week of the season.
Next they face the Texas Rangers in a three game set in Arlington at Globe Life Park starting on Tuesday.
Houston's home team record is 5-8 and the Astros are two games behind the Rangers who sit at 7-6.
The Tigers head to Kansas City to play the Royals in a three game series at Kauffman Stadium.
The Tigers record is 7-4 and are just half a game behind the Royals and the Chicago White Sox who are 8-4.