Students, faculty ask board chair tough questions
The chair of Houston Community College's Board of Trustees reached out to both students and professors. On Friday, March 11, Adriana Tamez spoke at the United Student Council and Faculty Senate meetings.
Dr. Tamez said that she came to answer questions, but many of the questions raised by students and faculty she had no answer to. She said she would look into the issues that were brought up.
It was the first time since the USC re-formed in 2002 that a chair of the Board of Trustees had addressed the assembly of student leaders. Chancellor Cesar Maldonado was supposed to speak at the USC meeting with Tamez, but could not attend due to a family emergency.
At the meeting at the HCC administrative building, Tamez reminded students that, "We are Houston's Community College," and reassured them that HCC is working to correct the mistakes of the past. "It takes time, but you will start noticing the change, and it's a change for the better," she said about transformation.
HCC Central Student Cynthia Franklin asked if the French Corner Cafe's contract would be renewed. Franklin has collected over 400 signatures on a petition to kick out the only cafeteria vendor on campus and bring in a different eatery. The petition was sent to Central President William Harmon's office last semester.
"We want change. We want different eating establishments on this [Central] campus," Franklin said, adding that they are high priced, with rude service and "food not conducive" to students like herself.
"I have no idea, that would be the chancellor," Tamez replied to all of Franklin's questions about the company's contract, but she said that she would "personally look into it." A college administrator in attendance suggested that the students form a sub-committee to explore options and bring recommendations to the Board of Trustees.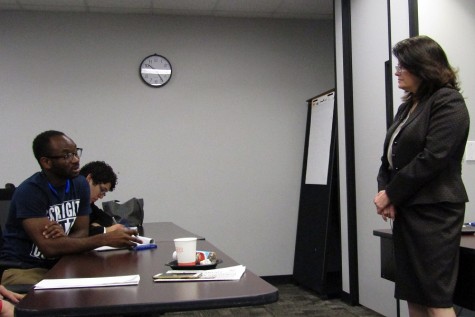 "We are the only campus that pays for parking," said Adrian Nwanze, an HCC Coleman student. He explained that most students pay about $100 a month to park at the campus located in Texas Medical Center. Another Coleman student added that it's common for students to pay $12 to park for two hours. Tamez said that she would look into it.
Nwanze also asked Tamez if the former Conn's building in front of the West Loop campus could be used as a student recreation center, pointing out that in the long run using a property the college already owns would be cheaper than leasing local gyms spaces like the college does now.
The Southwest Student Government Association started a petition last September for a new student recreation center, which called for "multi-purpose areas which can be used for the benefit of all students, including a full weight room, group exercise rooms, student lounges, basketball courts, and a food center."
"It makes sense to build in a building that we purchased," Tamez replied. Tamez called the purchasing of the Conn's property "a smart move" because it allows for the campus to grow. She encouraged the student assembly to submit their ideas as a proposal.
The trustees recently authorized the chancellor to execute a lease agreement for the Conn's property.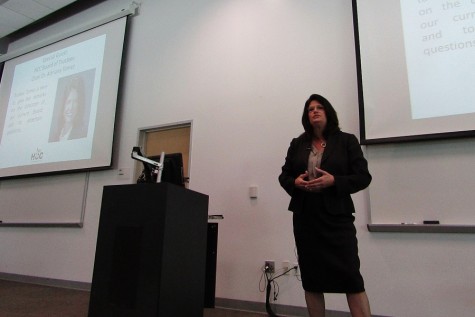 At the afternoon Faculty Senate meeting at HCC Central, an instructor asked how the board would be taking a hard look at land acquisitions and future growth rates. Tamez explained, "We are planning ahead and looking into the future—and looking to see exactly what we are planning to do with every piece of property that we own…that is underway right now…Do we have too much property? Ya, we know we do…"
She added that going forward they plan on making decisions that "make sense."
"All the ways that we communicate with each other here are just gone," said another faculty member, speaking about how the college's public relations department started controlling flyers and other announcements after transformation. "I don't even know about events going on on campus to tell my students to go to. They're paying college activity fees, and they can't go to anything."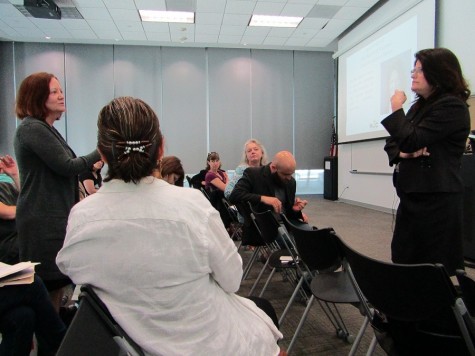 Last fall, student organizations were forced to go through the college's public relations department to have flyers designed and printed that followed HCC's new brand standards.
In an email dated Dec. 2, Shantay Grays, the Associate Vice Chancellor of Enrollment Services & Student Engagement clarified that, "student organizations are indeed allowed to design and distribute posters, flyers and other material used for the purpose of promoting a campus event (which targets student participation)." Approval from public relations is not necessary, but campus management rules about posting flyers still apply.
Tamez again responded that the issue of post-transformation campus communication was an "administration situation." While she says she supports the transformation and supports the chancellor, she added that unintended consequences do need to be addressed.
About 18 months ago, construction started on the memorial green garden in front of Central's San Jac building. A faculty member pointed out that construction was only supposed to take six months, saying, "I cannot tell if they have made any progress since the start of the school year."
Tamez represents District III, which the Central campus falls under. She wouldn't give any hint to the projected completion date, saying that she is waiting for the latest info.
Another instructor brought up the issue of the Barnes & Noble bookstore at the Central campus closing for inventory during midterms, leaving some students with no way to get Scantrons for their tests. Tamez had no answer, "I don't cross over into the administration's role," she explained, adding that she would ask and look into it.
Dr. Tamez assured instructors that with the new budget cycle the trustees will "look at our salaries across the board for our faculty…so that we are competitive [and] so that we continue to attract the best of the best."
"I understand that you also need the resources to get the job done," said Tamez—from tangible resources to training. "We want to make sure that you have what every other faculty member at every other top university has…"
Leave a Comment
About the Contributor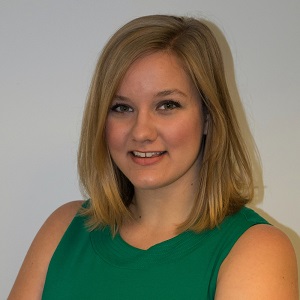 Alyssa Foley, Editor
Alyssa served as The Egalitarian editor-in-chief from October 2014 - May 2016, and she served as the news editor from January 2017 - May 2017. She transferred...