Students donate prom clothes
Do you remember being a senior in high school? The fear you may have had in realizing you couldn't find the right clothes for prom? That's a problem Chelsea Coffey was compelled to solve. Along with a former co-worker, Patricia Molina, she founded Mia's Closet, a nonprofit clothing donation organization.
On March 10,  the organization picked up a trove of clothes at HCC's West Loop campus for Mia's Closet prom drive.
HCC students donated their prom wear to help out local youth. The event was coordinated through the Southwest Student Government Association, which volunteered through Team Gemini, two members of which are close friends to Coffey.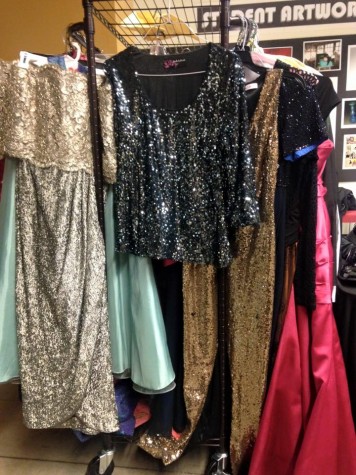 The organization hosts confidence-building events for underserved kids from kindergarten to the 12 grade. Originally, the idea was set for a charity, but later focused on kid's clothing specifically.
"A lot of it [bullying] is out of your control…There's so many stories I've heard about kids wearing their dad's shoes, like wearing their brother's shoes…They get teased. There's so much abundance and if people just have stuff sitting in their house that they really don't need, sometimes they just need someone to come and redistribute it. That's the goal for us and obviously, making the kids just feel good about themselves," Coffey said when asked about her organization's mission.
The organization itself was started in May 2011. At the time, Coffey was working in corporate America at a chemical distribution company. She didn't feel fulfilled working there.
Aside from providing for girl's clothing needs, Coffey and Molina had expanded the organization by creating Niko's Locker, a subsidiary that addresses the needs of boys, which provides clothes on a regular basis and sports game.
"I'm more about the day-to-day…How are we creating opportunities for them to have a better wardrobe for the year," Coffey says. She recognizes that her firm not only targets prom events, but also the needs of regular clothing during the school year.
"Prom was actually an auxiliary part of Mia's Closet, but it has become our staple event," Coffey notes.
The name itself, "Mia" means mine in Spanish and is indicative of Coffey's experiences. "There was a heavy Spanish influence on me," she recalls when she created the company. At the time then, she was working at a Latin American company.
The name resonated for her when she realizes Mia could also be a common name among African-American girls. She was able to combine her respect for Latin culture with that social awareness.
Her initial plans were to expand the organization to other cities, but now she wants to remain in Houston for the time being, having taken advice from a friend. Her main focus now is "create an organization where you can show love for the community of where you're from".
In the meantime, she now has a board of other members who chime in and with their assistance; she does plan on eventually helping youth from other urban cities.
"I think there is a responsibility that I feel we all should have in terms doing what we can with what we have," Coffey says.
For more info about Mia's Closet, visit MiasCloset.org. On Twitter @miascloset_hou Instagram @miascloset