Spring break staycations around Houston
If spring break will be a staycation or if you're on a tight budget, there are free things you can do around Houston for a unique experience on your time off.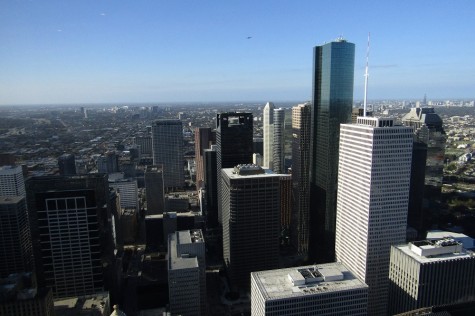 Go sightseeing.
The JPMorgan Chase Tower offers the highest public view of Houston from the Sky Lobby on the sixtieth floor. A one-stop elevator takes visitors to the observation floor, which gives a wide North-Western view of Houston and beyond. The Sky Lobby is open to the public during the office hours of 9am-5:00pm Monday through Friday.
Explore the Underground.
Beneath Houston's downtown streets is a system of tunnels that connect 95 city blocks. It provides restaurant and shopping to the large downtown office population. The Wells Fargo Plaza and McKinney Garage on Main offer direct access from the street to the tunnel, but most downtown office buildings have stairs, escalators or elevators that bring you to the tunnels 20 feet below the city. Walk into any downtown building and ask how can you get into the tunnels, and most office receptionists are happy to help hometown or visiting tourists on their way. The tunnels are only open Monday through Friday from approximately 6am-6:30pm, but most restaurants close by 2:30pm after the lunch-hour rush.
See nature.
Watch thousands of bats fly off into the night from underneath the Waugh Drive Bridge near Buffalo Bayou. Like the bat bridge in Austin, it's an amazing sight at sunset to see them take off. This bat colony consists of Mexican free-tailed bats that emerge nightly to feed on up to 1,200 tiny insects an hour.
Possibly the largest colony of Mexican free-tailed bats that live in Texas all year can be seen  from the bat observation deck in Buffalo Bayou Park.
Watch the sunset or sunrise.
At James Turrell's "Twilight Epiphany" Skyspace, you can meditatively watch the transition from day to night or night to day through the roof of this unique art installation. Public light sequences occur Wednesday through Monday at both sunrise and sunset. Reservations are free and required for sunset light shows, but not for sunrise.
Located adjacent to the Shepherd School of Music on the Rice University campus, the structure is equipped with an LED light sequence that projects onto the ceiling and through a gap in the 72-foot square roof just before sunrise and at sunset. The gently shifting lights complement the natural twilight light for a beautiful and calming experience.
For viewing times, parking info, and reservations, visit: SkySpace.Rice.edu
Get cultured: visit a museum.
Many Houston museums are always free, others have free admissions at particular times.
The Museum of Fine Arts is free all day Thursday from 10am-9pm, and if you show your Student ID on any other day, admission is discounted from $15 to $7.50. Special ticketed exhibitions will still cost you, but the permanent halls are free to roam.
The Houston Museum of Natural Science's permanent exhibit halls are free Thursday from 3-6 pm, adult tickets are normally $25. Admission to the butterfly house, planetarium, giant theater and special exhibits is not included with the free admission.
If you want to hit up as many museums as possible, the Holocaust Museum is free Thursday 2-5pm; the Buffalo Soldiers National Museum is free Thursday 1-5pm; the Children's Museum is free Thursday 5-8 pm; the Health Museum is free Thursday 2-7pm; and the Museum of African American Culture is free Thursday 6-8pm.
Other museums are free every day of the year, including the Asia Society Texas Center;     Contemporary Arts Museum;     DiverseWorks; Center for Contemporary Craft; Center for Photography; The Jung Center; Lawndale Art Center; The Menil Collection; Rice University Art Gallery; and the Rothko Chapel.
Visit: HouMuse.com/Free-Admission-Times
See a live performance.
Enjoy a free show in an open-air theater in the heart of the museum district at Miller Outdoor Theatre: 6000 Hermann Park Drive, Houston.
On Friday, March 18 at 8pm, the GuGu Drum Group from Shanghai will perform. The group will present a theatrical drum drama, depicting historical and culturally significant drum compositions.
Director Yang Xiaodong will take a contemporary approach to his authentic ancient drums, representing a powerful lineage of drum movements dating back to the times of the Emperors of Chinese Dynasties. GuGu Drum Group uses traditional Chinese drums with modern percussion techniques, most famous just outside of Shanghai.
On Saturday, March 19 at 8pm, Salsa artists Angelo Pagan, Jimmie Morales and Oskar Cartaya will perform in Noche Caliente.
Angelo Pagan is a salsa recording artist and band leader, with tracks in Spanish and English and in genres spanning from salsa, pop and big band. Jimmie Morales has performed in sessions for almost every major artist in the Salsa genre with consistent sound and rhythm. Oskar Cartaya plays bass, composing, arranging and acting as musical director for artists.
Free tickets are available for the covered seating area (4 per person over age 16 while they last) for each event at the Miller Outdoor Theatre box office one hour before showtime. Or, you can bring your folding chairs or picnic blanket and enjoy the show from the hill.