On your mark, get set, walk
Houston Community College's annual graduation ceremony is set for Saturday, May 14, at 9 am at NRG Stadium.
Students must meet with an adviser by March 11 to be approved for graduation. After meeting with an adviser, students need to apply for graduation online by April 15 through their Peoplesoft student center.
While actually having a degree awarded to your name comes at no additional fee, to have your physical diploma mailed to you costs $10, the fee can be paid online when applying for graduation. Diplomas are not actually handed out at the graduation ceremony.
Graduating students will be able to register for the commencement ceremony March 1 through April 22. Participating in the ceremony is not required to receive your degree.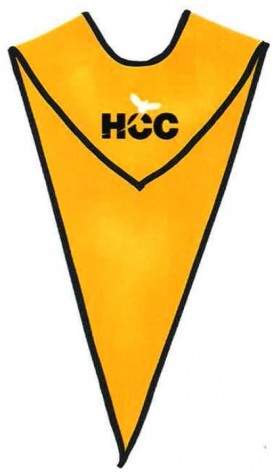 Regalia can be purchased online now, and HCC bookstores should have graduation regalia in stock by March 1. A cap, gown, and tassel will come in a package for about $50, while graduation announcements are sold in packs of 25 for $50. GED students have to purchase their regalia at an HCC Bookstore, not online.
This year, high school dual credit graduates will be honored with the privilege of wearing HCC graduation hoods. These are students who have earned their high school diploma and a college degree or certificate at the same time. "They will still walk with their degree group, but you will be able to recognize them with the hood," explained Vice Chancellor of Student Services Dr. Kimberly Beatty.
For more information and to buy regalia online.
It's estimated that 14,200 degrees and certificates will be awarded this year. That number is based on students who are set to be eligible for awards upon on successful completion of courses this spring and summer.
The college administration is aiming to have 2,500 graduates participating in the ceremony this year, which is only 300 more graduates than walked last year for the additional 1,251 degrees expected to be awarded.
Last year 1,260 graduates walked in the morning ceremony for academic degrees, and another 940 graduates walked in the afternoon ceremony for GED and workforce. HCC awarded 12,949 degrees and certificates in 2015.
"We won't be separating workforce and academics as we have in the past," stated Dr. Beatty.
However, there will be a separate ceremony dedicated to GED graduates on Thursday, May 12 (TIME) hosted at HCC Central. All other degree recipients can walk in the May 16 ceremony at NRG Stadium.
Combining both of last year's ceremonies, graduation 2015 was about five hours long.
"Our goal is to get this accomplished in three hours," said Dr. Beatty about this year's ceremony, "we've timed it out, and we're hopeful that we can get it in three hours."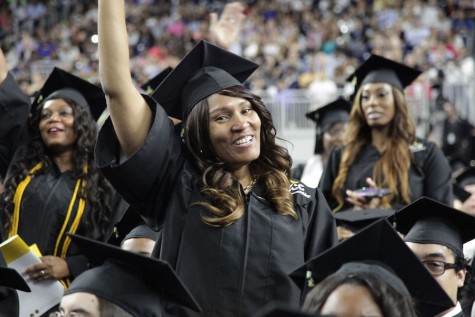 They aim to accomplish that time by using software called Marching Order. The program does multiple things: it manages the online event registration for students and faculty; prompts students to upload a photo of themselves when they register for a slideshow; it will display graduates' names, degree and photo as they walk the stage; and a professional reader will announce the names of graduates.
The pre-recorded announcement of each graduate's name will be timed to two seconds per name, this is how the college hopes to keep the ceremony under three hours.
Dr. Beatty said that, just in case, "we'll still have announcers there for backup, because this is our first time using it [the pre-recorded announcement system]."
"The time element is critical," stated the HCC Board of Trustees Chair Adriana Tamez, but she added that, "we also can't take the experience away from these young people. A lot of times we want to go so fast, and go in and out…we miss the whole point about what we're doing."
Marching Order has been used by other community colleges in Texas like El Paso Community College and Tarrant County College, as well as big-name universities such as New York University, Penn State and Harvard.
At the Board of Trustees special meeting on Feb. 16, Chancellor Maldonado also talked about possibly having rehearsals for photo opportunities at key points in the ceremony.
In 2013, HCC granted 10,999 degrees and certificates; in 2014 the college granted 10,600 degrees and certificates; and in 2015 the college granted 12,949 degrees and certificates. If this year's predicted number number of 14,200 degrees and certificates is accomplished, it will be an applaudable achievement for every member of the college's community.
Carina Watson, a biology major at the HCC Honors College, is walking because "the overcoming of one stepping stone that feels unreal until you're actually up there with your cap and gown." She added that she looks forward to celebrating with her classmates.