Chalmers urges students to progress
Noted activist Mamie King-Chalmers visited the Houston Community College West Loop campus for a discussion of Civil Rights on Feb. 4 for Black History Month.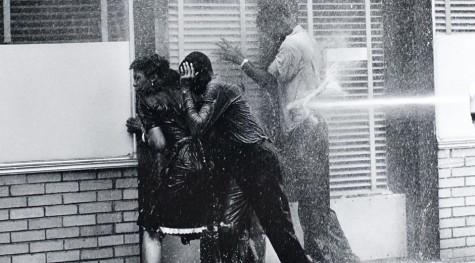 The image of Chalmers and two African-American children being hosed in Birmingham, Alabama at Public Safety Commissioner Bull Candor's command is what has made her famous to this day.
Chalmers was born June 19, 1941, in Birmingham where she grew up in the Jim Crow South. At 17 years old, she was a domestic worker in a woman's house on Graymont Avenue. At the time, she was only being paid two dollars a day.
Additionally, the living conditions forced on her were degrading. The owner of the house gave her a dinner that consisted of, "some moldy bread, a hot dog she had in the freezer for a long time, a small can of pork and beans, and a jar of Kool-Aid." After only receiving 35 cents that night for her work, she left the job and chose to never do domestic work ever again.
At the insistence of her father, she joined Dr. Martin Luther King's movement in 1963. When she joined, Dr. King told her and other demonstrators, "If anybody walks up to you, spits on you, hits you; you couldn't go back-to-back. Just take it and tell them, 'I love you just the same.'"
She and the other demonstrators had to go through training on what to say and how to effectively demonstrate for their movement.
At one point, she served five days in jail for her efforts. In jail, the police refused to feed her and the other demonstrators because of their actions. With help from Northern states and other groups, she was set free. She left Birmingham in 1966 and was pardoned in 1968.
Despite progress, there was major opposition from the Ku Klux Khan, which led to the bombing of the Sixteen Street Baptist Church. Four young girls were killed in the bombing. One survivor, Sarah Collins-Rudolph, lived to tell her story.
Chalmers cautioned that even in today's society, "people sitting next to you [could have] got a bomb." Her advice for people is to "watch, look, and listen."
She wants young people to look around and not believe what others tell them without seeing for themselves.
When asked about what other advice she would give young people, she wants them to be "obedient" and to "get educated" so they could vote and change the society we live in for the better.
Chalmers gave an example of her grandson approaching her house one day with his pants down. Taken aback at this, she ordered him not to come back until he was properly dressed. Chalmers finds pants hanging down among men, and women wearing revealing clothes, as being "disrespectful."
She firmly believes that a solid education will bring young people out of the urban subculture and become productive members of society.
Chalmers was given the Key to the City in Birmingham on December 10, 2013 for her many services as a Civil Rights leader. She called the experience an "honor," especially considering just decades before, she couldn't even walk freely in the city.
She believes that African-Americans should celebrate Black History Month "all 365 days" of the year because of the immense impact black people had on this nation.
It's Chalmers's wish that all young people participate in the struggles for equality and not fail to be leaders of tomorrow.
For more about Chalmers, read her biography, 'Her Stolen Pride' by LaSuria Kandice Allman, her daughter, who was also inspired by her mother to become an activist.