Today In Sports History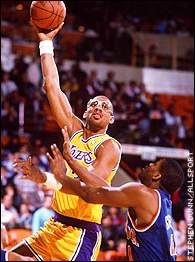 John Cañamar, Sports Editor
February 5, 2016
On February 5, 1989 Kareem Abdul-Jabbar became first NBA player to score 38,000 points.
Abdul-Jabbar is the NBA's all-time leading scorer with 38,387 points.
Abdul-Jabbar played six years with the Milwaukee Bucks before going to the Los Angeles Lakers where he played 14 seasons.
Abdul-Jabbar won six NBA Championships, his first with the Bucks in 1971 and five with the Lakers in 80, 82, 85, 87 and 88.
He also won six MVP titles; three times each with the Bucks and Lakers.
He was inducted into the Basketball Hall of Fame in 1995.