'The Comedy of Errors' opens at Stafford
The Houston Community College-Southwest drama department is showing "The Comedy of Errors" at the Stafford campus.
The show brings us the tale of two sets of identical twins separated by shipwreck. One lives Syracuse and the other in Ephesus, two rival cities. When the Syracusian twins find themselves in the city of Ephesus, where a sign read "Death to All Syracusians", they quickly disguise themselves and plan how to get home.
Unbeknownst to them their identical halves are well established in Ephesus, thus leading to a hysterical lineup of errors as the people of Ephesus mix up both sets of twins, until there is so much confusion it seems as if they all have gone mad. It's one of the shortest Shakespearean comedies.
The play opened on Wednesday Nov 18, and runs through Sunday Nov 22. They're preforming at the Stafford campus inside the Fine Arts Center, 9910 Cash Rd, Stafford TX, which is across the street from the Learning Hub.
The cast had their final run-through of the play Tuesday night and expressed their optimism for their show and how they hope the audience will react.
"I want people to feel good," says Haley Herman, who plays a plethora of characters, ranging from a market woman to a messenger, "The theme is so abstract, I think a lot of people are going to have fun with it. It's one of Shakespeare's funniest plays."
Another actor, Anthony Brown, who plays Antipholus of Syracuse, agreed, "[Shakespeare] tailored his plays for the common people, he showed that people are still people… I think Shakespeare highlights that in a fun way."
"Hopefully, people will enjoy the play so much that it will inspire them to look for different varieties [of Shakespeare's plays]," said Jalon Davidson who plays the Executioner.
Set in Morocco in the 1920s, everything from the costumes to the set and props is made to have the look and feel of an Arabian bazaar. Intricately and beautifully done, there is a grand effect on the way the play is presented compared to the stereotypical Renaissance theme.
"Shakespeare is more universal than just Renaissance," said Gary Snider, a professor at HCC Southwest and the Costume Designer for the play. "It can be translated into any time period. [Past], present, future…It was originally set in Rome, one thousand years before Shakespeare's time."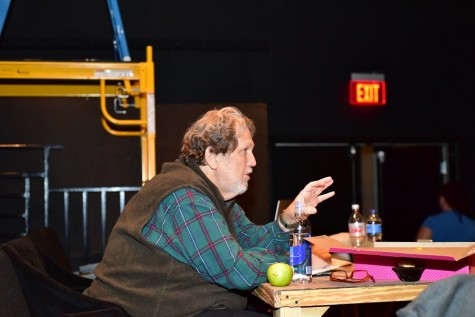 The cast and crew are teeming with excitement. "The cast came together as a great team" said John Corley, the director of the play and a professor of fine arts.
"I hope people laugh," said Leah Hurbrough, who is playing Luciana, "but I also want them to like Shakespeare. I want them to like the words that are spoken, all in iambic pentameter. I want them to know that Shakespeare isn't all down and dramatic and death, he's a very clever guy."
Wednesday-Saturday, the play begins at 8pm, but guests are asked to arrive at 7:30pm to be seated; on Sunday the show starts at 4pm and guests are asked to arrive at 3:30pm. Space is limited, tickets can be reserved by calling the box office line at 713-718-6369.
Student, senior and HCC staff tickets are $7, general admission is $10, cash only.