Review: 'Do Black Patent Leather Shoes Really Reflect Up?'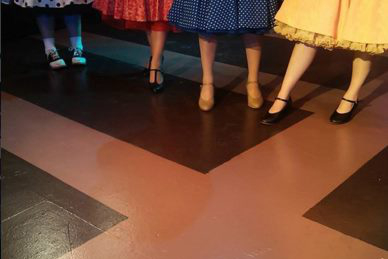 Image courtesy of University of St. Thomas Drama Department
"Do Black Patent Leather Shoes Really Reflect Up?"
That is the question, posed by the University of St. Thomas Drama Department in their fall show.
The Catholic university  is showing a Catholic-themed play that gives the audience a glimpse into a world of a private Catholic schools in the 50s and 60s. It tackles many questions and adventures school children experience as they are raised in the strict and traditional interpretation of Catholicism.
The play is adapted from a book by John R. Powers and is about the coming of age of eight Catholic school children. It begins with the main character, Eddie Ryan, returning to his childhood school where the play takes place. Starting from the second grade throughout his high school years, we follow Eddie —who is classified by all as a late bloomer — through the ups and down of being in a private Catholic school.
The play touches on many issues that those who grew up with a Catholic education can relate to; from  instruction on how to attend confession to Catholic sex education. The nuns instruct the girls to never wear black panted leather shoes because they reflect up (their skirts), nor pearls because they reflect down (their shirts).
In many ways, the play creates a comedic environment over the awkward godly ways that are taught to the students. The lessons taught throughout the childrens' school years are entertaining, and even more so coming from a religious college.
The story follows Eddie and Becky, a pudgy young girl who loves brownies and struggles with self-esteem. Both are the targets of their bullying peers. They befriend each other on the school playground and maintain their friendship throughout their school years.
As they get older Eddie realizes that he is in love with Becky, and strives to convince her to be more than "friends, the best of" as the duo likes to sing it. Their relationship goes through complications as they reach high school, with Becky remaining devoutly Catholic as Eddie questions God and his faith. Their relationship climax at their prom, with Eddie attempting to tell Becky of his feelings and Becky telling him that she is considering the convent.
The musical, with a vast array of catchy songs is set in a black box thrust stage that seemed too small for all the dancing nuns and school children. Black Leather Shoes makes for a splendid domestic comedy that hits up on some big issues that Catholic and "public" children face throughout the years.
From bullying and sex to faith and beliefs, obeying what one is told to finding ones own opinion, this play shines light onto many real issues that the characters have to cope with while drawing light and laughs onto the characters.
Overall, the play was well done and made for a wonderful laugh-filled evening that was enjoyable.  I would highly recommend it.
There is still a chance to see the show for yourself: the play is running Oct. 28 – 30, Wednesday, Thursday and Friday night this week at 8 pm at the University of St Thomas campus, 3910 Yoakum, Houston, TX 77006. Purchase tickets here.