Milo Hamilton: A Blue-Star Life
Milo Hamilton dies at the age of 88.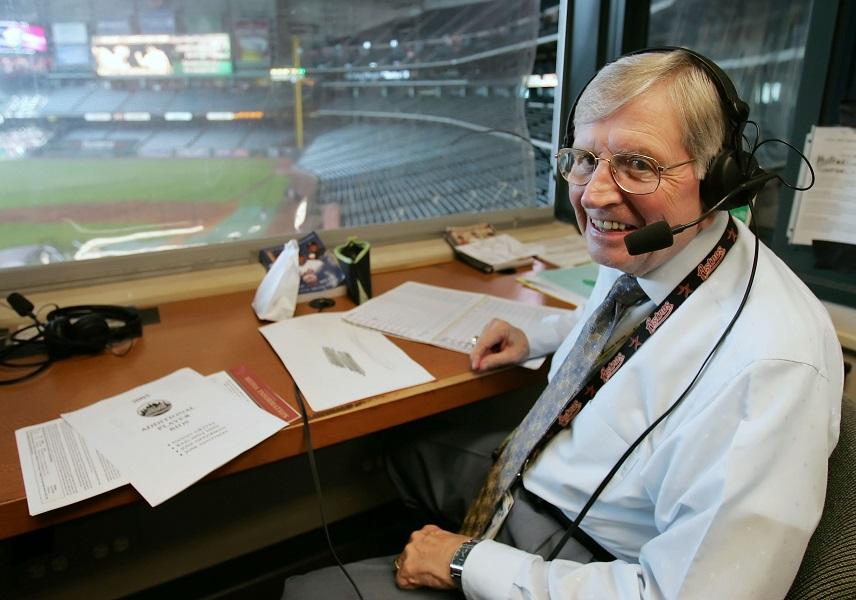 John Cañamar, Sports Editor
September 17, 2015
As the voice of the Houston Astros since 1984, and a broadcaster for Major League Baseball for 60 years, Milo was beloved by generations of Astros fans and respected by all in the sports media industry.
From calling Hank Aaron's 715th Home Run to Mike Scott's No-Hitter, Milo was a master of his craft. A one-of-a-kind storyteller that could take you from under your covers at night, or the back seat of your father's car to right in the middle of the ballpark where all of the action was taking place.
I cannot give Milo the credit for lighting the spark that is now the flames of passion for sports that burn within me; but he does deserve the accolades for the standard in which I use in the process of pursuing the responsibility of documenting the stories of those in sports.
Earlier this year, I reached a milestone in my career where I was accepted by Major League Baseball to receive credential to cover professional baseball.
About two weeks after my first game at Minute Maid Park I found myself in the media cafeteria with no open tables in which I could eat my dinner. Milo, seeing my situation, offered me a seat at his table, to which I jumped at the opportunity to eat dinner with the legend himself.
Milo must have seen the nerves on my face, and struck up a conversation as if we were old friends.
After introducing myself, Milo went on to give me words of wisdom that I will forever treasure.
The one piece that I will share with you is: "Conduct yourself as if you are talking with a friend when doing an interview and you will always come across genuine, and you will gain the trust of your interviewee."
After about 10 minutes, Milo excused himself and left the dining area where I was left in awe and thinking: if my Grandpa could see me now he would shake my hand and rub his hand across my head in approval.
Milo never hit a home run or struck anyone out in the major leagues; he was the voice that all little boys and girls in Houston and surrounding areas would imitate in the backyard when playing out the World Series in the back yard.
"John Cañamar steps back in the box with the bases crowded, here's the pitch, its going… going… Holy Toledo! It's a Grand Slam walk off hum Dinger!"
Milo Hamilton here is to your Blue-Star Life.
May you rest in peace, in that Field of Dreams in the sky.