Honor students give advice to freshmen
Members of Omega Sigma, Houston Community College's chapter of the Phi Theta Kappa Honor Society, hosted their first general meeting of the fall semester on Sept 4 at the West Loop campus.
When asked, these Kappians had some superb advice for new students at HCC.
"When you get into HCC, you're going to think, 'Hey, it's just a community college'. You just go to your class — that's all — and then get out. No! It's not. You have got to participate. You got to go to organizations, you go to clubs. There are so many opportunities," said Nga Phan about HCC's student life, "So just look around, befriend students, befriend your professor, be in clubs. There are a lot of opportunities here….don't just go to school and go home — that's not how students are supposed to do [school]."
Other scholars said that taking advantage of HCC's free on-campus and online tutoring is crucial.
"[When I was a new student] I wish I knew about all the study opportunity you have," said Samuel Sonjonues, "honestly, people fail that first test because they didn't know who to study with or where to get help from."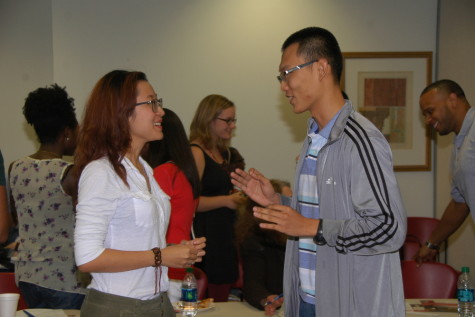 "Don't be afraid to ask for help, to go to tutoring or go to online — 24 hour online tutor, workshops and stuff," said Morayo-Tammy Daramola, "Don't be afraid. Ask your teacher."
Another scholar agreed that using other student support services is important to success.
"Get involved more in the services that the campus offers like advisers," added Anderea Pietinedo, "For me as an international student, I didn't know about the education system, I didn't know what was an associate's, what was a bachelor's because it differed from my country. I wished I could get more information about those kinds of things —  what courses do I have to take? Now I know a lot of it, but at first that was very important: get involved with the services that the campuses can offer."
Oh, and don't forget the HCC scholarships.
"People think, 'HCC doesn't give you scholarships'. That's wrong! There are tons of scholarships," said Nga Phan.
"I wish I would have applied for all the scholarships, I kind of got them late in my academic career," admitted David Soto, "I would have done it way beforehand."
Debora Cousins pointed out that self-awareness is also important to success.
"You know your strengths and weaknesses. You already know what kind of person you are. Lists what your strengths and weaknesses are, and then set goals and then sit there and set goals to overcome whatever that is as far as studying. Because once you get behind, it's very hard to get back there. Then you're going to have a tendency to give up if you allow yourself to get far behind….And even if you do fall behind, don't give up. Go find somebody that can help you get back on track and then continue on."
___
This week, Phi Theta Kappa members are hosting free events for all students at different campuses. On Tuesday, visit with them at the Spring Branch campus 1:30 – 3:30 pm a free ice cream social, by the main entrance close to the Student Success room. Wednesday, they will be at the West Loop campus giving out free ice cream 12:30-2:30 pm. On Thursday, they will be at the Alief-Hayes campus lobby 9-11 am with games and more.

Phi Theta Kappa membership invitations are sent to students with at least a 3.5 GPA and at least 12 hours of college-level credits. However, many society activities are open to non-members. Find them on Tumblr, Facebook and Twitter.