Peter Pan flys through Houston
Peter Pan is flying through Houston with a whimsical explosion of storytelling and impressive theater technology.
Peter Pan 360 is a feast for the imagination of children and children at heart. From astounding stunts and mesmerizing acrobatics, there is never a dull moment.
The character portrayals are on-point with your childhood memories. Peter Pan (Dan Rosales) just wants to have fun. Wendy Darling (Sarah Charles) has all the innocence of a child and maturity of a mother. Tinker Bell (Jessie Sherman) is a petite ball bursting with energy, emotion and fairy dust. Tiger Lily (Porsha Putney) has two dance scenes packed with all the ferociousness of a tiger and grace of a lily. The lost boys and the pirate gang are both equally wild and unruly.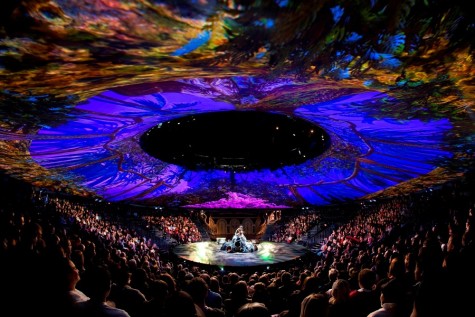 Image courtesy of Threesixty Entertainment
Powerful cinematic projections on the tent ceiling transport the audience from London to Neverland. It's difficult to take in the 10 million pixels that fly Peter Pan, Wendy, John, Michael, Tink and the audience through 200 square miles of London. The characters fly with the help of faith, trust, pixie dust — and elaborate flying harnesses. Scenery flips in and out of the stage, and the actors magically disappear into hidden manholes.
For all the effort the production puts into making everything else so realistic, how the animals are done is disappointing.
Nanny the dog is a giant puppet, with her human puppeteer always standing by her side. It took me an entire scene to figure out that the puppeteer was not a character. The 5 year-old boy sitting next to me was equally confused and kept asking his dad questions. Why couldn't they have put a human in a dog costume? Then, there wouldn't be a dog walker in the nursery.
Captain Hook (Stephen Carlile)'s untimely demise occurs when he does a nose dive into a trap door on stage, or was he eaten by the open-mouthed crocodile in front of him? There has to be a better way to choreograph his death.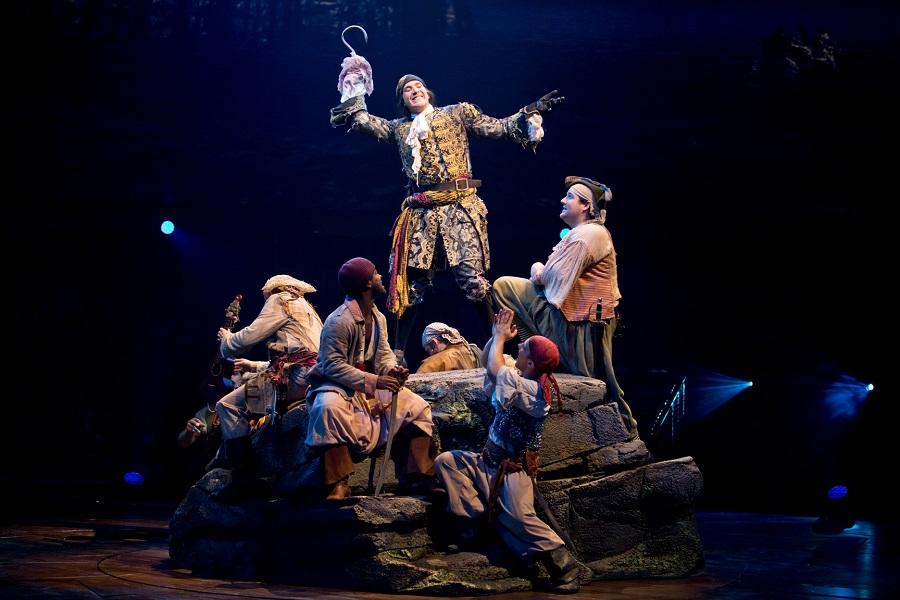 Image courtesy of Threesixty Entertainment / Jeremy Daniel
Audience members are not the only ones who enjoy this show.
Dan Rosales plays the eternal boy: Peter Pan. "It's the best experience ever. You get to have so much fun! He's a kid with boundless energies, full of adventures. Every day is so much fun, everything is magical."
Jessie Sherman (Tinker Bell) said that the best part about playing everyone's favorite fairy is,
"I get to be a child again, and sort of show at the highest level every emotion that you can experience. I get to go to the extreme of being angry and sad, and just throwing it all out there because she has no filters." Tinker Bell is as childish and rambunctious as the lost boys.
"[Growing up] I was obsessed with Peter Pan the Disney movie. Since I was actually 5, my nickname has been Tinker Bell," Sherman laughed, "It's a dream come true actually, because I've been wanting to play this part all my life."
Sarah Charles (Wendy Darling) adores the character she plays as much as anyone else. "I just love her. She is a tough cookie. She is wise, she is tenacious, she is motherly." Laughing, Charles added, "She has become my best friend."
"[Peter Pan] wasn't one of those stories that I clung to as a kid, but coming back to it as an adult is so special because it kind of re-invented that magic for me," explained Charles, "Re-discovering it as an adult is so much more touching to me, because I understand the deep themes that are in it."
Her favorite theme? Family. "Throughout the entire play is that idea of family and love being the foundation of everything. It begins with the family, and then it ends [with the family], and then Peter, and the Lost Boys and Wendy — they all become a family in Neverland."
The celebration of family is something grown-up children can truly appreciate. I admit, I got watery-eyed when Wendy, Michael and John were reunited with their parents.
All things considered, it's definitely worthwhile to fly with Peter Pan and company. Eyes young and old seemed to be transfixed with wonder. Everyone can be a child for a night.
Prices for weekday performances begin at $25 and weekends at $35. Also available are VIP tickets which include a reception with the characters after the show. Expect to shell out at least $10 for parking.
Tickets can be purchased at PeterPan360.com, at The Society for the Performing Arts Box Office, any Ticketmaster location, or by calling 1-800-745-3000. Discounts are available for groups of 10 or more by calling 713-632-8113 or emailing [email protected].
Standard showtimes are Tuesday through Friday at 7:30 pm; Saturday at 11:30 am, 3:30 pm and 7:30 pm; Sunday at 1:30 pm and 5:30 pm. The show runs for about two hours with a 20-minute intermission.
The 100-foot tall carnival-tent looking theater is quite a sight. It's located at the corner of Highway 59 and Loop 610, not far from Houston Community College's West Loop campus. The exact address is 4747 Southwest Freeway, Houston, Texas 77027.
If you were worried about how comfortable a tent theater could be, fear not. It's air-conditioned with comfy seats and other accommodations. There didn't seem to be a bad seat or view in the arena-shaped 'theater in the round', except perhaps the front row where your neck could get sore staring up at the action.
Peter Pan 360 has a fundraising partnership with Texas Children's Hospital for the Houston leg of the tour. Save money and donate to the hospital by using the code "Promise" while buying tickets to get a 10 percent discount on the ticket price with an additional $5 going to 'Promise: The Campaign for Texas Children's Hospital'.
Peter Pan 360 is directed by the award-winning Thom Southerland, choreographed by the acclaimed Gypsy Snider, co-adapted from the original J.M. Barrie story by Southerland and Tanya Ronder, designed by the Olivier Award winning William Dudley and set to original music compositions by Benjamin Wallfisch and Howard Herrick.