Faith in Goodell, NFL deflating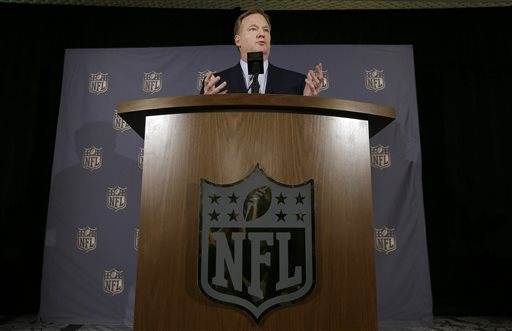 The National Football League has played all of its fans once again!
The NFL made news last week with the announcement that New England quarterback, Tom Brady, would be suspended for four games in the upcoming season for his possible involvement in "Deflategate."
Along with Brady's suspension, the Patriots would be fined $1 million and would lose draft picks in the 2016 and 2017 rookie drafts (1st round in 2016 and the 4th round in 2017.) The two employees that actually did the deflating were suspended indefinitely.
If the NFL truly cared about the good of the game — and not its image and being a current topic for people to talk about when there is no real news from the sport — the NFL offices would have not suspended Brady for four games but banned him from football entirely.
If Brady were the mastermind of the whole act and not just the benefactor of the ball being at the preferred air pressure, he should be held at a higher standard than the two men who carried out his plan.
Ted Wells' 243-page report on the Deflategate scandal concludes, "it's more probable than not," that Patriots personnel, "participated in a deliberate effort to release air from Patriots game balls after the balls were examined by the referee."
Step back and look at it from a different angle. On Aug. 24, 1989 Major League Baseball Commissioner Bart Giamatti, announced that Pete Rose — baseball's all-time hits leader— was banned for life for gambling on baseball.
Rose did not gamble in any game that he played in and has still been held out of all MLB functions with only two or three exceptions in the pass 26 years. This ban includes not allowing Rose his well-deserved place in the Baseball Hall of Fame in Cooperstown, NY.
If MLB can ban their all-time hit king from all of baseball for an act that he committed outside of his playing career, why would the NFL just suspend one of the greatest — not the greatest — quarterbacks for only four games for an act that was committed during not just any game, but a playoff game?
To me, this is just another black eye on the NFL this year. At this point the NFL has more black eyes that both Floyd Mayweather and Manny Pacquiao had combined in their fight last month.
Commissioner Roger Goodell has not carried out his responsibilities as the head of the NFL and should be replaced by someone who would carry out what is best for the sport, and not the owners' pocketbooks.