Pritchett burns rubber on drag strip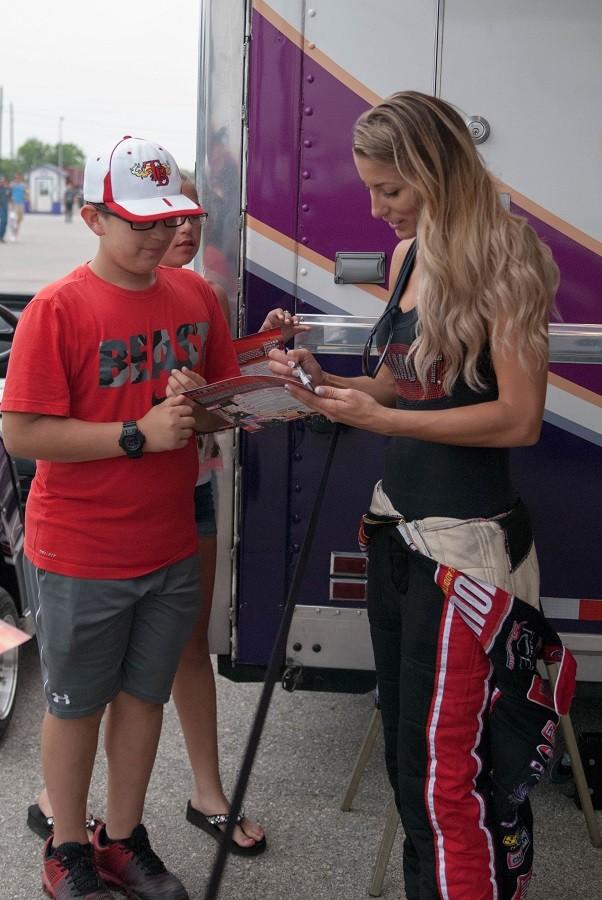 John Cañamar, Sport's Editor
May 8, 2015
BAYTOWN, Texas — In less than 5 seconds, at speeds that can reach over 300 miles per hour, Leah Pritchett flies down the 1,000-foot drag strip with the help of her pit crew, the Dote Racing team.
In 2013, Pritchett earned her Top Fuel License and became a member of the Dote Racing from Utica, N.Y.  She began racing at the age of 8 and has moved through the ranks of the drag racing world, earning her stripes and earning respect from other drivers, teams and fans one pass at a time.
This past week in Baytown, Texas, Pritchett was busy signing autographs for her fans while her team prepared her 25-foot long Top Fuel Race Car that sports the red and black design of her major partner Gumout. The team, or pit crew, is made up of seven members and led by Crew Chiefs Dough Kuch and Rob Flynn.
With a time of 3.775 seconds, Pritchett and Dote Racing was in the second qualifying run on Saturday and they earned their way into the first round of Sunday's races.
Pritchett was matched with fellow female racer Brittany Force in the first round on Sunday morning. When the Christmas tree hit green, Pritchett launched off the line and was in firm command until her car lost a piston causing her car to slow down and allowing Force to fly by at 326 miles per hour.
"We dropped a cylinder pretty early in the run and she made a great pass too," said Pritchett speaking about what happened on her last pass.
Her team members were upset with the engine's performance on the last run, but such is drag racing.
Every crew in the sport travels the circuit with a mobile mechanic shop in multiple 18-wheelers. After each run, a team will normally remove everything from the engine down to the crankshaft and rebuild it in less than 50 minutes.
A good run — when everything goes as planned — will cost from $6,500 to $10,000. This number includes the salaries of the crewmembers and driver as well as fuel and parts. If a run goes poorly and something breaks, the cost dramatically goes up and can easily reach and surpass the $100,000 mark. In the past, lives have been claimed in the pursuit of who can go the fastest.
Doug Kalitta was the winner at the NHRA Mello Yello Drag Racing Series event at Royal Purple Raceway in Baytown this year.
Pritchett and The Dote Racing Team will next compete in The Kansas Nationals on May 23 – 25 in Topeka, Kansas.