Astros ride hot streak to first place in AL West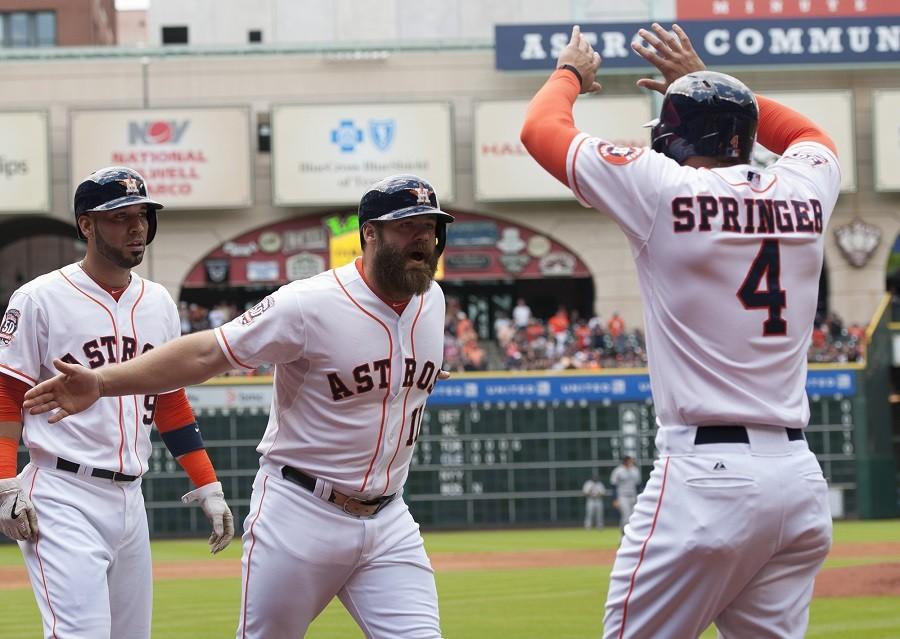 John Cañamar, Sport's Editor
May 8, 2015
The Houston Astros are MLB's Shooting Star in the month of April.
With the calendar turning over to the month of May, the Houston Astros find themselves with a record that they haven't seen since 1986. That place is on top of their division in the American League West with a record of  15-7 to start the 2015 campaign.
All of the baseball experts predicted another slow start and a long and painful season for the club; they must have forgotten to tell the players and Manager A.J. Hinch.
In his first season with the Astros, Hinch has sold his philosophy on baseball to his young club and has them firing on all cylinders.
After starting the season 4-5 and only winning one out of the first three series, the team has gone on an 11-2 pace while winning all four series, including two series sweeps over the Los Angeles Angels and San Diego Padres.
The most impressive part of their success is that the wins have come against division opponents for the most part giving the team a 4-game lead in the AL West.
After having such a great beginning, even if the club were to slow down their pace of victories to a mere .500 average they would end up with a record of 85-77, a 15-game improvement from last season and likely a division title or a wildcard birth into this year's playoffs.
Up to this point in the season, there has only been one major negative in that Jed Lowrie has injured his thumb. He will undergo surgery that will keep him out of the line-up and on DL until mid July after the All-Star game.
Hinch has been able to generate such a positive atmosphere with this group of guys by mixing up line-ups on a day-to-day basis. Out of the first 22 games of the season, Hinch has had 21 different line-ups with players batting in different orders and playing in different positions as he sees fit. This is a huge deal in the baseball world where most teams know day after day who will be at which spot and in what slot in the batting rotation. The theory in the different line-ups is that every player has a unique talent and Hinch will use those talents for the greater good of the team.
Albert Castro, a fan of the Astros for over 40 years said, "This year is special, we have a great squad with hitting and pitching. There is also a feeling with the team that we will come through and win."
Although the team is young, there are clear-cut leaders in the clubhouse in Jose Altuve and Dallas Keuchel.
Last year's American League batting champ, Altuve has picked up right where he finished last season by hitting .367, 36 hits, 16 RBI, 13 runs and 9 stolen bases in the month of April. With his energetic play and kid-like love for the game he has spread the joy of coming out to the park and working as one to his teammates.
Keuchel is a perfect 3-0 in 5 starts and has taken command of the role of Ace Pitcher for the club; only allowing 16 hits, striking out 22 and walking 11 in 37.0 innings.
The month of May will not be any easier than April where the Astros will face all four teams from the
AL West in addition to series with Toronto, Detroit, Baltimore, Chicago White Sox and defending world champion San Francisco Giants.