UH wins at AAC tourney while Rice season ends at C-USA; Prairie View advances in SWAC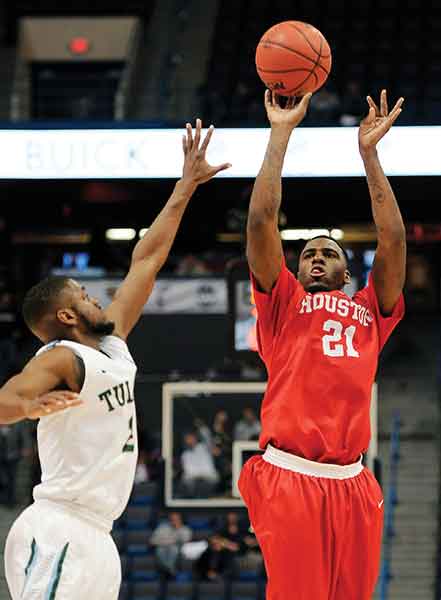 In Hartford, Connecticut, Jherrod Stiggers made five 3-pointers and finished with 23 points as Houston beat Tulane 66-60 in the first round of the American Athletic Conference tournament on Thursday. The win, the Cougars' fourth straight, moves Houston to today's quarterfinal matchup against second-seeded Tulsa.
In other conference tournament action, Erik McCree had 17 points and 12 rebounds to help No. 1 seed Louisiana Tech beat ninth-seeded Rice 70-64 in the quarterfinals of the Conference USA.
Locally, Tre Hagood scored 20 points and Montrael Scott 19 to lead fourth-seeded Prairie View A&M to a 62-56 victory over fifth-seeded Jackson State in the Southwestern Athletic Conference tournament at the Toyota Center. The win sets up today's semifinal game between the Panthers and top-seed rival Texas Southern.
Houston 66, Tulane 60
Cavon Baker secured the victory on a defensive rebound and pair of free throws with nine seconds left. Baker finished with 20 points and the 10th-seeded Cougars.
Houston (13-18) led 57-45 on Danrad Knowles's jumper with 5:24 left, but seventh-seeded Tulane (15-16) answered with seven straight points and pulled within 64-60 with 22 seconds left. But Kajon Mack missed the second of two free throws and Jonathan Stark and Louis Dabney both missed follow-up chances.
After Tulane tied it 36-all midway through the second half, the Cougars pulled away with a 15-3 run.
Payton Henson led the Green Wave with 14 points. Dabney and Jay Hook added 13 apiece.
Louisiana Tech 70, Rice 64
BIRMINGHAM, Ala. — Alex Hamilton scored 15, Raheem Appleby 11, and Michale Kiser added 10 for Louisiana Tech (25-7), which will face fourth-seeded UAB in the semifinals Friday.
Rice (12-20), which trailed by as many as 15 in the second half, scored nine in a row, and 11 of 13, to pull within three twice in the final 1:22.
Louisiana Tech, however, made 5 of 6 free throws in the final 43 seconds to hold off the Owls.
The Bulldogs made just one of its last eight field-goal attempts and shot 39.7 percent for the game, but committed just six turnovers while converting 17 Rice miscues into 24 points.
Seth Gearhart led Rice with 16 points, including 12 in the second half.
Prairie View A&M 62, Jackson State 56
Raeford Worsham had 16 points and 17 rebounds, his fourth double-double this season, for the Tigers (11-21). Janarius Middleton also scored 16 points and Derrell Taylor added 10.
The Panthers (15-17) shot 51.9 percent in the first half to take a 35-26 lead with Hagood scoring 10 points. They built their lead to 11 with 16 minutes to go before Jackson State cut it to 55-52 with 2:28 left on Javeres Brent's jumper after the Panthers suffered through a 1-for-9 stretch from the field. But a basket from Hagood and five Panthers free throws offset two baskets from Taylor down the stretch.
Prairie View entered the tournament having gone 8-1 during the second half of conference play.