NBA Deadline Deals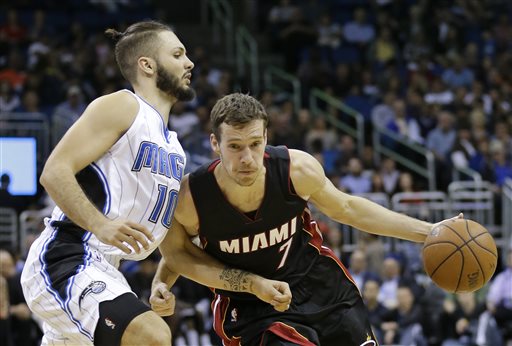 John Cañamar, Sport's Editor
February 26, 2015
The NBA's trade deadline came with a total of 11 trades involving 17 teams making deals. When the dust settled 34 players switched jerseys and 8 future players, yet to be drafted, were dealt all in the name of improving their respective team's position to win a championship.
The Phoenix Suns trade Goran Dragic to the Miami Heat for Danny Granger, Norris Cole, Shawne Williams and Justin Hamilton and two first round picks. The Suns were not done yet; they then traded Cole, Hamilton and Williams to the New Orleans Pelicans for John Salmons.
In a six-player, three-team deal, the Oklahoma City Thunder trade Reggie Jackson to the Detroit Pistons and Kendrick Perkins to the Utah Jazz. In return the Thunder received Enes Kanter and Steve Novak from the Jazz and D.J. Augustin and Kyle Singler from the Pistons.
Kevin Garnett was moved by the Brooklyn Nets to the Minnesota Timberwolves in exchange for Thaddeus Young.
In a three-team negotiation the Milwaukee Bucks send Brandon Knight to the Phoenix Suns while the Suns send the Philadelphia 76ers a first round draft pick. The Bucks receive Michael-Carter Williams from the 76ers along with Miles Plumlee and Tyler Ennis from Phoenix.
The Portland Trail Blazers landed guard Arron Afflalo and Alonzo Gee from the Denver Nuggets, in return for Will Barton, Victor Claver, Thomas Robinson and a lottery-protected first-round pick in 2016.
Isaiah Thomas finds himself no longer a Phoenix Suns but a Boston Celtics after being trade for a future first-round pick and Marcus Thornton.
The Houston Rockets add K.J. McDaniels from the 76ers and Pablo Prigioni from the New York Knicks. The Rockets send Isaiah Canaan and a second round draft pick to the 76ers, while sending Alexey Shved and two second round draft picks to the Knicks.
The Washington Wizards acquired 28 year-old Ramon Sessions from the Sacramento Kings for the 38 year-old Andre Miller.
Tayshaun Prince is returning to the Detroit Pistons while Jonas Jerebko and Gigi Datome will now call the Boston Celtics their team.
While it seems that the Thunder may have had the best deal at the end of all the moving and shaking, no one will really know who mad the best negotiations until the end of the season when only one team will raise the NBA championship trophy.