"Houston, we have no problem!" Craig Biggio is called to the hall
Sunday, June 26, 1988 at 1:35 P.M., the birth of a Hall of Fame career was born when the 5' 11" 22 year-old from Smithtown, New York strapped on his catchers gear and walked behind the plate at the Astrodome in Houston.
Craig Biggio that day went out and caught Jim Deshaies for his first major league game with the Houston Astros. Biggio stepped up for his first at bat in the bottom of the second and flew out to centerfield. Biggio then came back up in the bottom of the fifth where he drew a walk, to then steal second base on the first pitch after he reached base. He would later score after Billy Hatcher was hit by a pitch. Biggio would strike out swinging in the bottom of the sixth and finish 0 for 2 with a walk and a run.
For the first four years of his career Biggio masked-up and called games from behind the plate as the Astros' starting catcher. In '89 he won his first Silver Slugger Award as a catcher. Biggio was named to his first All-Star Game in '91.
Biggio agreed to move to second base after much convincing by his coach and fellow Hall of Famer Yogi Berra. He would go on to play second base from '92 through the '02 season where he was among the top three second basemen in the majors. He made his second All-Star Game in '92 as a second baseman became the first player in baseball history to become an All-Star in both catcher and second basemen positions.
In '03, Biggio was moved to the outfield to make room for second baseman free-agent Jeff Kent. After two years he returned to second base where he remained until he retired on September 30, 2007.
Biggio became the 27th player in baseball history to tally 3,000 base hits and sits at number 20 on the all-time list with 3,060. He is the second player to hit 50+ doubles and steal 50+ bases in a season. He ranks as the number 5 all-time hitter in doubles with 668. Biggio, Barry Bonds and Rickey Henderson are the only three players in Major League history with 2,500+ hits, 500+ doubles, 400+ stolen bases and 250+ home runs.
Biggio earned multiple awards throughout his career which include: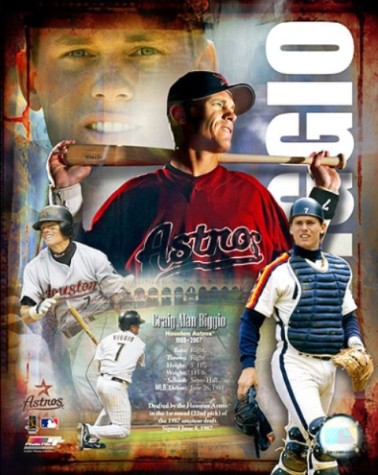 All-Star 1991 (Catcher), 1992 (2B), 1994 (2B), 1995 (2B), 1996 (2B), 1997 (2B),  1998 (2B)
Gold Glove 1994 (2B), 1995 (2B), 1996 (2B), 1997 (2B)
Silver Slugger 1989 (Catcher), 1994 (2B), 1995 (2B), 1997 (2B), 1998 (2B)
Houston Astros Player of the Year 1998
Texas Baseball Hall of Fame inductee 2004
Texas Sports Hall of Fame inductee 2004
Heart & Hustle Award 2006, 2007
Roberto Clemente Award 2007
National Hall of Fame 2015
Biggio accomplished all of this during the steroid era without ever coming under question for Performance-enhancing drugs. Biggio is considered a rarity in modern sports for his old school hustle and team first spirit while playing his entire 20 year career for Houston's beloved Astros.
On July 26, 2015 the crowds at the grounds of The National Hall of Fame Museum, in Cooperstown, New York, will receive Craig Allen Biggio to its hallowed shrine with the chants of "B!-G!-O!, B!-G!-O!, B!-G!-O!"