The Cause and The Cure Turkey and Toy Give Away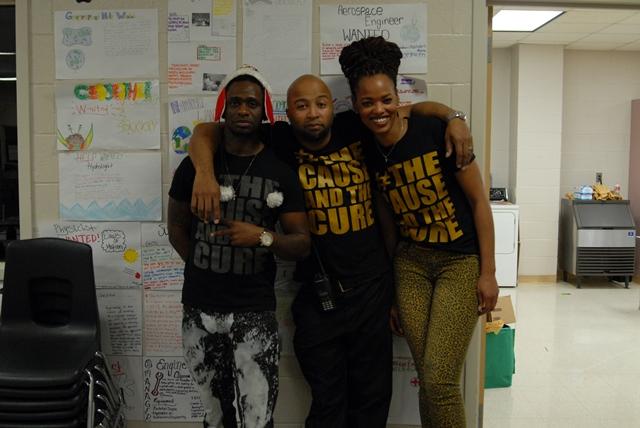 John Cañamar, Writer
December 24, 2014
Houston's own rap artist Sun held his first annual The Cause and The Cure turkey and toy giveaway in the Alief community where he was raised.
Sun, who graduated from Hastings High School in 2002, came up with the idea of the turkey give away while getting his hair cut just under three weeks ago.
After the idea popped in his head, he called his high school principal, Tremayne Wickliffe, who jumped on board and helped fine-tune Sun's vision.
Wickliffe reached out to Marie Lee, president of the Alief Community Association, who joined forces with the group and brought the ACA toy drive to the event.
Kim Youngblood, Sun's manager, connected with Cricket Wireless and Fiesta Supermarket to donate phones with service and canned goods, respectively.
Sun called on his longtime friend Chef Miller of Big Momma's Krazy Kajun, who came out and donated Gumbo to feed guests and volunteers.
The drive fed over 80 families who came out to The Crossroads. All families received a Jennie-o turkey, two grocery bags of can goods and multiple toys for the children.
The food that was not given away was donated to the Star of Hope.
Phones and bicycles were given to guests who won the door prize giveaways.
Dee Jones, the business and community partnership coordinator for Alief Independent School District, stated that the families that were being helped were nominated by counselors and teachers throughout Alief ISD. Jones has been with the toy drive for the past five years and is pleased with the collaboration with Sun.
Hyren Miles of Gateway to Care was volunteering in the festivities because she believes that it is great to give back to the community in which she grew up in. That was the same sentiment that was shared by the majority of the volunteers.
Sun was delighted with the turn out and is planning several other events to add to his turkey giveaway for the upcoming year.
Sun did not speak of his upcoming album or tour, stating that the evening was for the people who were being helped and not about him. Sun also challenged other artist and members of the community to open their hearts and help in any way to make their community better.