HCC Southwest College Studio Class Recital 2014
On Dec 6, HCC Southwest Music Department of Fine Arts started off the Christmas Season with the performances of voice students featuring in "HCC Southwest College Studio Class Recital" at HCC Fine Arts Center Recital Hall, Stafford Campus.
The audience members were mostly friends, family members and music students, which made this recital quite intimate and family friendly. There was a variety of music pieces including Art song, Aria, and Chinese Folksong. For instance, Un bel di vedremo from "Madama Butterfly" by Giacomo Puccini, O zittre nicht mein lieber Sohn from "The Magic Flute" by Wolfgang Amadeus Mozart, Lovers from "The House of Flying Daggers" by Umebayashi and Hu Lun Bei Er Prairie by Ke Ming, Wu Lan Tuo Ga.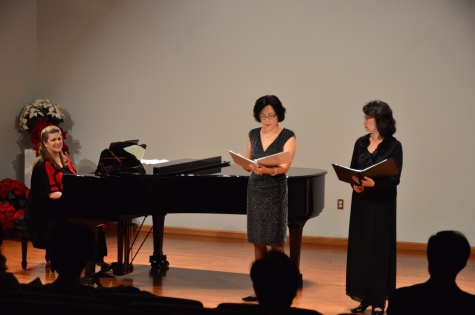 Helen Zhang was the first one who was interested in performing Opera on the stage, so she asked Dr. Andrea Jaber, Assistant Chair of Music and Voice Professor at Stafford Campus, to teach her when they met at Kroger.
There were also three more students who participated in Dr. Jaber's class, Harold Xia, Jane Shao, and Jessica Cheng. Dr. Jaber not only trained these four students, but also conducted the choir and set the recital for them too.
Jane Shao, one of the four students who said that Opera was the music genre that she liked, adding that the best part of the recital was she got to choose her own songs. She mentioned that she normally sang on the small stage at the Church. "I'd love to perform Opera again" said Shao.
Another student who performed at this recital, Jessica Cheng found it challenging to sing opera because the notes are quite high, but Dr. Jaber helped her get through the high pitches. Cheng also mentioned, "I like Opera a lot because I used to sing a lot of Chinese song[s] when I was younger;" moreover, "now I'm reaching [an] older age and I wanna explore and sing the song I've never sung before and learn something new."
Dr. Jaber said, "Several years … later, now Helen and I have become very dear friend[s] and I am so honored that she is finally able to sing for you today."
The process of organizing the recital was not easy because of several issues that they all faced at the time. However, Dr. Jaber asserted, "we set a date, we made it happen and here it is."