Halloween, with its jack-o'-lanterns, costumes, and spooky tales, is a beloved holiday celebrated worldwide. However, its origins are veiled in centuries-old traditions, a fusion of ancient rituals and modern customs.
Halloween finds its earliest origins in the Celtic festival of Samhain. Celebrated around November 1st, Samhain marked the end of the harvest season and the beginning of winter in ancient Ireland, Scotland, and Wales. During this time, the Celts believed that the boundary between the living and the dead blurred, allowing spirits to roam the earth.
The Romans, who had a significant presence in Celtic regions, added their own customs to Samhain. Feralia, a Roman festival to honor the dead, was observed in late October, aligning with Samhain. Additionally, Pomona, the Roman goddess of fruit and trees, contributed to Halloween's association with apples.
In the 7th century, the Christian church sought to replace pagan festivals with Christian holidays. Pope Boniface IV dedicated the Pantheon in Rome to honor Christian martyrs, establishing All Saints' Day on May 13th. However, in the 9th century, Pope Gregory III moved All Saints' Day to November 1st, coinciding with Samhain. The evening before became known as All Hallows' Eve, eventually shortened to Halloween.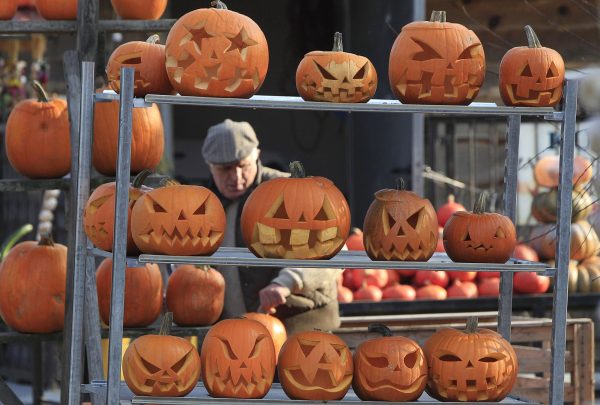 During the Middle Ages, Halloween evolved with the mingling of customs from various cultures. One popular tradition was "souling," in which the poor would visit homes, offering prayers for the deceased in exchange for "soul cakes." The practice later transformed into the modern tradition of trick-or-treating. The carving of pumpkins into jack-o'-lanterns is one of Halloween's most iconic traditions. This practice was inspired by an Irish legend about a named Stingy Jack who, according to folklore, was condemned to wander the earth carrying a hollowed-out turnip with a burning coal inside.
Halloween's origins are a tapestry of Celtic, Roman, Christian, and medieval influences, a fascinating blend of ancient rituals and modern customs. Today, it remains a time when the living and the spirits of the past briefly converge in a celebration of both life and the mysteries of the afterlife.