Must Watch TV Series: "Yellowjackets"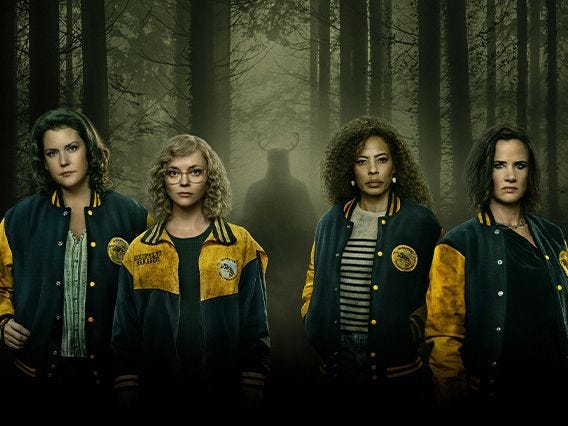 A tv show I have been obsessed with since season 1 came out in 2021 and has returned in March with the highly anticipated season 2 is Yellowjackets. With the cliffhanger it left viewers within the finale of season 1 I would say so for with the recent episode 4 of season 2 it is answering the questions we had needed answered.
Yellowjackets is about a high school girls' soccer team in the 90s who were on their way to nationals' competition when their plane crashed in the wilderness leaving them stranded for 19 months. The show switches from the present time, which is 25 years after the crash and the past and only showing certain girls in the present time. This is what makes the show interesting because since it only shows a few of the "survivors" viewers wondered what happened to the other girls who were in the wilderness. It shows in the present time that they are what seems to be afraid and ashamed of whatever happened out there when they were stranded to come to light.
In season 2, we finally get answers on what they can be afraid of coming to light which deals with cannibalism. Yes, in the beginning of season 1 it hinted towards signs of later cannibalism, so viewer discretion advises on topics of that in the show. The first seconds in season 1 for the first episode touches on how dark the series will get for viewers.
One of the reasons I first watched the show was because I knew Christina Ricci was going to be in it who plays adult "Missy" one of the survivors of the plane crash. I personally enjoy watching it because I do think watching psychological thriller and more gory shows sometimes. The show Yellowjackets is really innovated and unique because currently I do not see anything like this showing right now. This show is at times hard to watch by closing your eyes on certain senses but overall, it is a good psychological thriller drama show to watch and recommend anyone who likes that to add to your must watch list.