Concerts during a pandemic?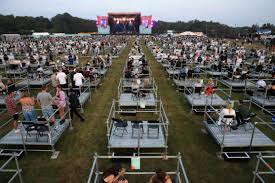 Regardless of how we personally feel about COVID and what is safe in regards to outings the fact of the matter is places are opening up and socially distanced events are becoming the norm. The most common music event I have seen during this pandemic is Drive-In concerts in which people come in their car and have a 6 feet square which customers are allowed to get out their car in that area with masks on.   The stage is further out also closed off by gates from customers. I have seen multiple people on social media that I know attend and it looks so fun.
The newest event I've seen actually happened this upcoming weekend. It was for Major Lazerz and it was an outdoor socially distanced concert. The tickets were bought in groups so it was around $599 and up depending on how many people per group. The ticket covered 6-12 people per individual ticket so it was not that expensive if you broke them down. I also saw people on my social media attend that concert and it was sold out so there we're plenty of people attending.
I took a poll on my Instagram regarding if people would attend these type of events  or if they themselves didn't feel it was safe enough to attend any events yet. I got 28 votes with 16 voting they would or already have attended and 12 said they weren't ready just yet. Whether we like it or not this is now our future until COVID is under control and there's no saying when that is.