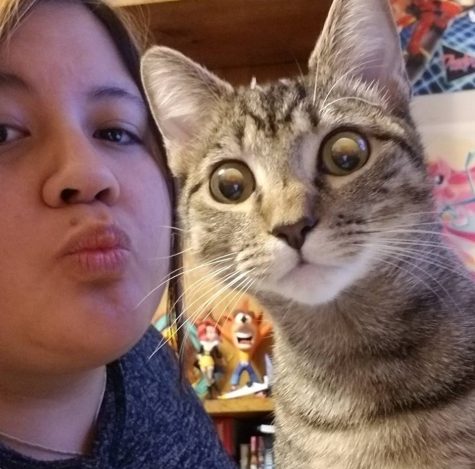 Ana is a final-year student at Houston Community College, double-majoring in Communications and Liberal Arts. She chose HCC over any other community college due to diversity. Commuting from Santa Fe to Houston almost five days a week, Ana says it's worth the 610 traffic.
She currently works on-campus as a Public Relations intern at HCC West Loop.
She joined The Egalitarian in August 2018 with a vision. She held both writer and editor positions within the same year.
Ana is originally from Southern California. She loves to write, cook, and play video games.
Ana can be reached at AGonzalez@hccegalitarian.com, you can also follow her on Twitter as
@Axeliira.
Ana Gonzalez, Editor-in-Chief
May 06, 2019

Know before you go: how to survive Comicpalooza

(Story)

May 03, 2019

HCC graduation keynote speakers announced

(Story)

May 01, 2019

Comicpalooza to host first-ever esports championship

(Story)

May 01, 2019

Valderrama, Cruz, added to Comipalooza lineup

(Story)

May 01, 2019

'Detective Pikachu' has potential to wow Pokémon fans, new and old

(Story)

Apr 29, 2019

Volunteer today! Comicpalooza is still recruiting for big 3-day weekend

(Story)

Apr 11, 2019

State of the College brings goals for the future

(Story)

Apr 10, 2019

"Game of Thrones", "Flash" stars coming to Comicpalooza

(Story)

Apr 10, 2019

NSLS Southeast Chapter looks forward to future success

(Story)

Mar 21, 2019

From a first timer: how to survive SXSW

(Story)

Mar 21, 2019

Kathy Griffin tells her side of the story in exclusive comedy special

(Story)

Mar 21, 2019

Lance Bass dives deep in 90's boy band scam

(Story)

Mar 21, 2019

Startups shine bright in SXSW Trade Show

(Story)

Mar 20, 2019

Gonzalez takes in sights, sounds of SXSW

(Story)

Mar 06, 2019

Are you ready for Lent? 40-day religious period begins this week

(Story)

Feb 26, 2019

SHSU Professor talks Civil Rights movement at HCC West Loop

(Story)

Feb 20, 2019

R.I.P. Café Adobe: "the best margaritas in Houston"

(Story)

Feb 14, 2019

Latest Nintendo Direct brings more Mario, Fire Emblem, plus other new games

(Story)

Feb 06, 2019

"Fluffy" brings nonstop laughs in new Netflix special

(Story)

Jan 29, 2019

Notebooks vs. laptops: a controversial comparison

(Story)

Jan 26, 2019

Weezer "blessed the rains" with a new cover album

(Story)

Nov 14, 2018

Chinedu brings the laughs at Humble

(Story)

Nov 14, 2018

HCC Cosmetology offerings: "best kept secret"

(Story)

Nov 14, 2018

Movie review: Bohemian Rhapsody goes much deeper

(Story)

Oct 29, 2018

HCC Speech Tournament a huge success

(Story/Media)

Oct 24, 2018

Speech winner calls hunger "mass destruction"

(Story)

Oct 24, 2018

"I'm an Angels fan, why am I rooting for the Astros?"

(Story)

Oct 11, 2018

Artists on the spotlight at Texas Contemporary Art Festival

(Story)

Oct 04, 2018

"End of the Road": KISS to tour for one last time

(Story)

Oct 04, 2018

HCC releases Clery report for 2018

(Story)

Oct 03, 2018

Commit to Complete: HCC holds week-long event

(Story)

Sep 18, 2018

We are NOT The Enemy

(Story)

Sep 12, 2018

Splatoon 2: Still fresh and off the hook

(Story)

Sep 12, 2018

Hunger Games: HCC volunteers at Houston Food Bank

(Story)