HCC Speech Tournament a huge success
Competitors were in good spirits on the morning of October 20th at Houston Community College Eastside Campus, as the 4th Annual Speech Tournament went underway. A total of 19 competitors participated in the tournament.
Danielle Stagg, HCC Interim Chair of Speech and Communication and Speech Professor Paralee Shivers organized the event.
The 19 competitors had to create a three to five minute speech on one of the topics that span from the importance of voting, to hunger and the importance of food programs, as well as Hurricane Harvey and the effect on student success. They were judged by a set of 10 judges that range from HCC professors to community members and pastors.
The majority of the tournament contestants were part of a speech class, such as Shivers' SPCH 1315, and Professor Angela Anderson's SPCH 1311.
HCC Speech Professor James Duvall, and former HCC Student, now Alief ISD teacher Idee Tezeyombi were the emcees of the tournament. Both educators provided some form of comedy and entertainment while judges were scoring the contestants.
HCC Eastside Communications Director Felipe Reyes, as well as Dr. Stephen Levey, associate vice chancellor for academic instruction educational development wished the contestants the best of luck. Both of them said that they are all winners and they appreciate their hard work and their effort.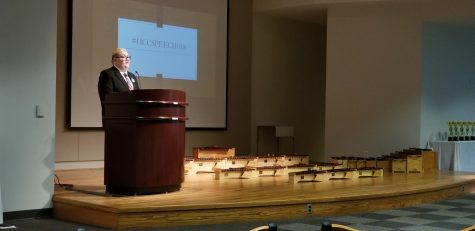 Student Aiden Wernig was the first to start off the tournament. His speech was about the importance of voting, emphasizing the upcoming midterm elections this coming November.
"There is a war on your right to vote, and I would like to give you the ammunition to fight," he said. He also tackled the rise in voter suppression and fraud in several states across the country.
Another student emphasized the importance of volunteering, which was one of the other topics contestants could use for their speech. Hospitality management student Vinh Le used his company, Volunteer for Tourism Vietnam, to showcase facts that students should at least try to volunteer for an activity.
Le is a freshman, and an international student from Vietnam. He says that volunteering helped him to learn and become proficient in English. The more tourists he guided around Vietnam, the more confidence he gained for his English.
"I knew that there were a lot of English-speaking tourists [in Vietnam], and they needed a local guide [to take them around the areas]" he said. "I became a go-to guide, I took the tourists around different destinations, and [give recommendations] to certain places."
Communications major and veteran Lamar Jackson (not to be confused with the Baltimore Ravens quarterback), also did a speech on the importance of voting, but focused more on minority voting. He plans to transfer to Texas Southern University to complete his degree, and would like to go to law school afterwards.
"It is imperative that we vote, we are smarter than that", he said, referring to Texas' low voting turnout in past elections. He also claimed that more college graduates are voting in recent elections than those with a high school diploma.
Entertainment was provided after the contestants competed. The children of Turning Hearts Music Ensemble, by the direction of Carolyn Davis from New Beginning Church, provided a wonderful concert towards the end of the tournament. Instruments ranged from xylophone, to rain sticks, to steel drums. The room was filled with a vibe that reminded people of sunshine.
Afterwards, the results were in.
Fifth place went to Anushka Mandot, who did her speech on the importance of college education. Fourth place was Talhatou Dialo, who focused on student volunteering. Both students received a trophy for their outstanding effort.
Third place went to Vinh Le. His volunteerism speech won him a $100 scholarship towards his education.
Second place ended up as a tie. It was at first that student Karim Alhakim, who did a speech on the importance of college, would have won the second place title, but due to a scoring error, the judges meant to give the title to Lamar Jackson, who spoke about minorities who vote. A "Steve Harvey" moment turned for the better as the judges took an extra minute to decide to award the $200 scholarship prize to both contestants.
First place was awarded to Dorothy Jenkins. She was the only contestant who presented a speech on hunger. She won a $500 scholarship.
All contestants got a certificate for their participation, as well as a commemorative t-shirt.