Center of Excellence opens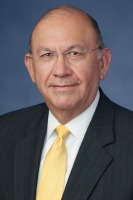 Houston Community College Chancellor Cesar Maldonado and several Trustees hosted a grand opening and ribbon cutting ceremony on Feb. 3 at the HCC Alief-Hays campus.
The Alief-Hays campus, located at 2811 Hayes Rd., is not new, but this event was to celebrate the first project completed by the Capital Improvement Project bond at this location.
This project was for improvements to the campus, including opening the second, third and fourth floors of the building. The upper levels now house the Filmmaking Program, the Center for Entrepreneurs, Health and Sciences, as well as the Media and Technology program.
The budget for this project was $14 million and has been in the works since mid-2013.
The campus hosts classes in filmmaking, Certified Nurses Aid, Horticulture, entrepreneurship, and with a partnership with UT-Tyler, it even has a 4-year engineering degree plan.
Aric Nitzberg, program director for the Audio and Filmmaking programs at Northwest stated that, "We decided to move the filmmaking program to the Alief campus in 2012, and with this new campus move we already have an enrollment of over 400 students. The filmmaking department, which was housed at the Spring Branch Campus, is now being run from the Alief campus and takes up about one third of the third floor."
Like Stafford and West Loop, the Alief campus now has its own Makers Space. It's a lab where students can use 3D printers to create their own models, toys and designs.
The campus is a combination of experiential classrooms and labs, a fully outfitted Maker Space, a facilitated collaboration space, a conference space, and a connecting learning commons to create intersections and networks of learning and innovation.
The space includes an impressive, fully functional sound stage with a green screen, private editing suites, a Foley studio and a Screening Theater for film students to edit their projects. It's a dream for any aspiring or even professional filmmaker. This new building has all the facilities a professional studio has.
On the same floor is the Center for Entrepreneurship where students can even participate in the HCC Newspring Business Plan Competition. The yearly competition was started nine years ago and has helped several students either start up their business or expand.
This year, out of 60 applicants, 30 have been accepted into the program. The program matches two advisers with each business to help them develop their business plan. There are five training sessions and a presentation before a final round. The three best business plans will win prizes that total over $16 thousand.
The goal is to build and sustain the Houston business community through effective and relevant educational initiatives. The Office of Entrepreneurial Initiatives leads and coordinates all business and entrepreneurial initiatives at HCC.