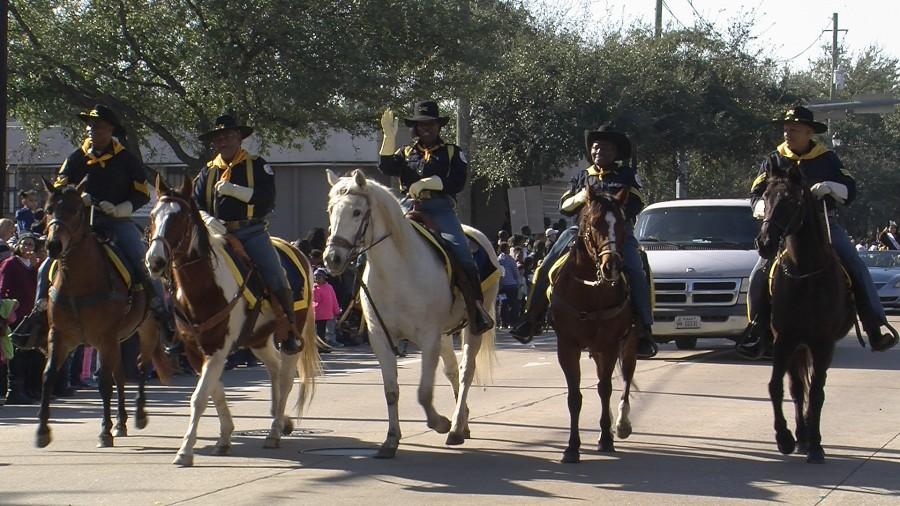 John Cañamar
The twenty-second annual MLK Grande Parade in Midtown Houston commemorated Martin Luther King's birthday on Jan. 18, with tens of thousands of people attending to witness the processions through midtown, marching within blocks of Houston Community College Central's campus.
The processions consisted of marching bands from the University of Houston, Bellaire High School, St. Augustine High School, and Scarborough High School, to name a few. Other groups that attended were the Sikh Martial Arts Group and the Roller Derby Society. Houston Mayor Sylvester Turner also made a brief appearance. The main theme for the event was "It Takes a Village," a phrase from an old proverb.
To many people, the message and legacy of the late reverend's movements still resonates. This rings true, especially for the parents and older citizens who brought their kids to attend. Several decades ago, African-Americans couldn't be seen in the front of the bus or attend any restaurant freely due to harsh Jim Crow laws.
Air Force ROTC Master Srg. Raymond Brown from C.E. high school acknowledged the disparity and hardships from days gone by. To him, the holiday means "the sacrifice of those who were there" which gave rise to "more opportunities" for black people. When asked about the current situation with our first black president, Barack Obama, holding office, he said, "He [MLK] would've been very proud."
Brown also cautioned that there's "still work to be done" on the issue of race relations in this country. He noted, "Materially, things have gotten better," but he would like to see more progress.
This is highlighted by the recent controversy with the Oscars. There has been an outcry from actors and directors on the fact that the majority of nominees for the categories had no African-Americans artists or other ethnicities.
Brown hopes that MLK'S legacy can inspire future generations to "serve" and give back to their communities. He also says there's "lots of lessons that can be learned here" for young people today. Often, our generation takes for granted the amount of freedom without realizing the struggles undergone in the 60s.
It's hard to fathom the hosing or assault of MLK's day when trying to walk freely into a street, store, or even a public school. What comes to mind are the struggles undergone by Rosa Parks on the bus and the Little Rock Nine, the nine black students who were able to attend a segregated school after Eisenhower's intervention.
People construe the Civil Rights movement as only helping African-Americans, but in a lot of ways, it also helped other minorities in general. Among the many participants were people of different faiths with Jewish, Hispanic, and even Asian backgrounds. Ultimately, the cause that drove King in his activism was equality for all in civil rights. The parade showed the melting pot that is American society. The late reverend would be proud of the racial inclusion made over the years.